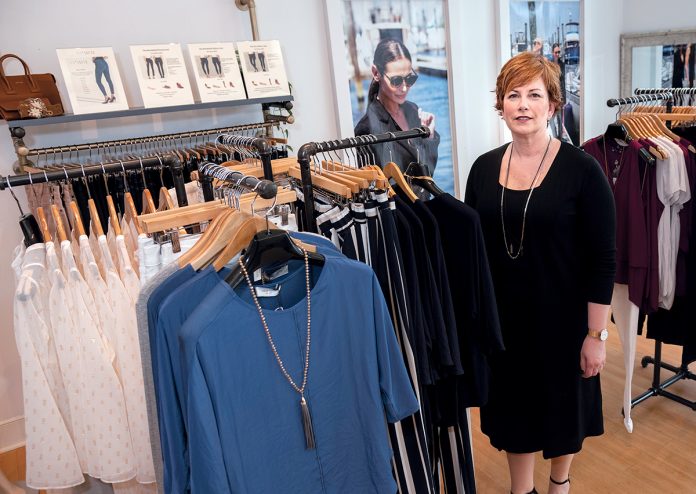 After studying fashion at the Community College of Rhode Island and Lesley University, followed by stints with Victoria's Secret, Filene's and apparel company V.F. Corp., Robin Barrett Wilson answered the little voice inside her head and opened a women's fashion boutique – a decadeslong dream.
There is a "voice in my head that's been chatting with me for many, many years," she said of her entrepreneurial shift in 2013. "[It] said it was time to do that boutique thing, [that I] have a different point of view" and should express it.
Currently located at the ­Garden City Center in Cranston, robin b. has had many homes since its launch in 2015. Barrett Wilson said she scoped out locations "from Newport to Barrington to Providence and decided to open in East Greenwich."
However, "I had a real challenge with parking … Main Street is really tough," said Barrett Wilson, and "the vision I had for the business wasn't growing as I would hope."
Two years later, she moved to Benny's Plaza on Post Road, opening on Aug. 1, 2017. Unfortunately, Barrett Wilson had to move again when the Benny's franchise went out of business later that year.
As Benny's went under, she began talks with Garden City Center and opened there, in a pop-up location, on March 1. She plans to move to a new location within Garden City Center this summer.
Enthused by the energy of her new location, Barrett Wilson said, "If you're looking to shop, to eat, to get out and walk … Garden City is the destination in Rhode Island." She also believes the fun and relaxing atmosphere at Garden City attracts women who fall into the target robin b. demographic.
"We focus on clothing for the professional woman," said 50-year-old Barrett Wilson, with an emphasis on those aged 42 and above.
Inventory at robin b. is broken down, by Barrett Wilson's count, to 20 percent her designs and the remainder a curation of "brands that typically align with my mission and vision … U.S.-made or women-owned."
Designs by Barrett Wilson include short- and long-sleeve T-shirts, a pencil skirt, black dress, skinny- and wide-leg pants, a sleeveless mock turtleneck and a blazer.
"We do three looks: weekend, date night and work for each piece," said Barrett Wilson, who knows her clientele prefers pieces that can pull "double duty."
The popularity of her designs has led Barrett Wilson to expand her portfolio to include additional colors and styles. She feels the positive reception of the clothing she has designed is one of her major accomplishments in robin b.'s short history.
Additional brands brought in to fill out the store's offerings include Three Dots out of Los Angeles. Australian women's fashion line Elk will be added in the fall.
Within five years, Barrett Wilson hopes to expand the robin b. footprint across New England and into Boston and New York.
OWNER: Robin Barrett Wilson
TYPE OF BUSINESS: Women's fashion design and boutique
LOCATION: 170 Hillside Road, Cranston
EMPLOYEES: Six
YEAR ESTABLISHED: 2015
ANNUAL SALES: WND