John Cotoia studied hard in high school, hard work that paid off when he got into Johns Hopkins University as a pre-med student. With that credential, he figured, getting into medical school would be a breeze.
"I've made it," he remembers thinking. "All I have to do is graduate."
The US faces a shortage of between 46,900 and 121,900 physicians by 2032, according to the Association of American Medical Colleges. Since 2005, the AAMC has called for an increase in medical school class sizes and the opening of new medical schools to meet the needs of a growing population that is living longer than ever. The Warren Alpert Medical School has gradually doubled its class size during the past decade in response. Brown began looking at what more they could do to help ensure a high-quality health care workforce ready to serve the diverse US population.
That's where Gateways to Medicine, Health Care, and Research comes in. The one-year program offers a Master of Science in Medical Sciences for students preparing to apply to medical school or other health professional schools.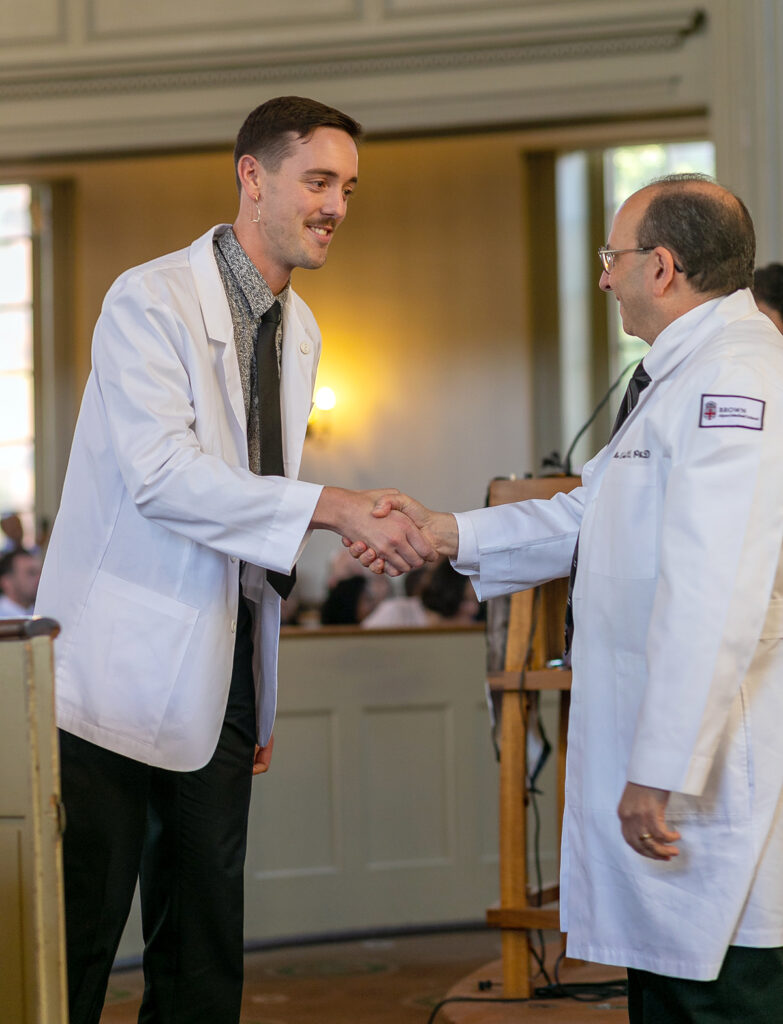 "This program is for students who feel a year of vigorous science courses will prepare them for a health profession," says the Gateways Program director, Gowri Anandarajah, MD, a professor of family medicine and of medical science at the Warren Alpert Medical School. "Most Gateways students are very capable of being outstanding physicians. Many have had hardships along their path to medicine or had challenges balancing competing demands when in college. It's difficult to get into US medical schools, so they want to enhance their academic credentials and expand their knowledge of health and health care."
Some of those students are like Cotoia. He realized, too late, that despite his numerous extracurricular and community service leadership activities in college, he needed to be studying harder than ever before if he wanted a shot at a medical education. "My academic performance wasn't going to convince many med schools that I'm taking myself seriously," he says. "I needed more time to prepare."
After earning his bachelor's degree, Cotoia returned home to California to work at the Lieber Institute for Brain Development. As he built his research and professional skills there, he applied to master's degree programs, still hoping to get to medical school someday. Gateways was the perfect option for him.
Gateways students take anatomy and the same basic science lecture courses as Brown's 144 first-year medical students. Master's degree students also get long-term experience at community health centers and take seminars on the many complexities of patient care, health policy, and medical ethics. Class sizes are capped at around 30 students, so each can get a lot of individual attention and mentoring from faculty. The curriculum also includes dedicated time for studying for the Medical College Admission Test, or MCAT, a standardized test required by most medical schools. It was these two features that Cotoia says he most appreciated about Gateways.
"I needed someone following my progress through the semester … and saying this is what you should focus on," he says. Furthermore, "the nature of the [Gateways] curriculum is preparing you for the MCAT." Faculty also helped him with his medical school applications, reviewing his personal statement, CV, and other components.
With the help of Gateways—and his own hard work and focus—Cotoia achieved his goal. In August, he joined the MD Class of 2023 at the Warren Alpert Medical School. He's still working hard, but he's having fun, too. "Gateways has vastly reduced the anxiety of going to med school," he says. "There's a lot less fear of the unknown, and a lot more excitement for doing things that I've been exposed to, or want to get to know on a deeper level."
FINDING COMMUNITY
Priscila Cevallos was also a pre-med student, at the University of Texas at Austin. An immigrant from Brazil, she spent a lot of time going home to Houston to fulfill family obligations. As a result, her grades suffered, and she didn't get the clinical research experience she felt she needed.
"After I graduated, I moved to Boston and was doing clinical research in quality improvement in pediatric interventional cardiology," at Boston Children's Hospital, Cevallos says. She also looked for other opportunities that would help get her into medical school. "I didn't want to repeat a lot of pre-med classes. I needed to prove to med schools I could be a good student and a great doctor. And I wanted to get a master's and ideally do a one-year program," she says. "Brown ticked all those boxes for me."
Like Cotoia, Cevallos loved Gateways' small class size and individual mentoring. "It was a super collaborative environment and everyone was helping each other," she says. Another rewarding aspect, she says, was "the opportunity that we had outside of the pure science curriculum to work with the community at large." Cevallos volunteered with outreach workers who walked around Providence at night to provide wellness checks for people experiencing homelessness.
Cevallos says Gateways "made a big difference" as she went through the medical school application process, from studying for the MCAT to faculty letters of recommendation. Now a first-year med student at Dartmouth, she feels the program better prepared her for the rigors of medical school—and got her one step closer to realizing her dream.
"I really want to work with underserved populations. As an immigrant myself, my family and I have had a lot of experiences in health care where there were language barriers, there were transportation barriers, there were cultural barriers," she says. "Part of the reason that I loved Gateways was because Dr. Anandarajah did a great job attracting like-minded individuals who … wanted to give back to their communities."
"I've spent 28 years as a medical educator thinking about what makes an outstanding physician," Anandarajah says. "At the end of the day, of course you need strong academic ability, but without compassion and resilience, you will not be able to truly meet the needs of patients. Through Gateways, we try to identify 'diamonds in the rough'—students who are genuinely passionate about caring for suffering patients, have raw academic ability, and have overcome hardships or disappointments and emerged determined to put in the work necessary to become a great physician."
LIFE-CHANGING EXPERIENCE
Torie Livingston says she's told Anandarajah many times, "Gateways changed my life." Livingston had originally gone to college, on a Division I volleyball scholarship, to become a sports journalist. But after experiences talking to low-income adolescents about their sexual health, she "did a 180." She transferred to the University of Georgia and began taking pre-med classes. But it was a struggle. Even her adviser discouraged her from applying to med school: "He said, 'You need to look at other options,'" she says. "I didn't even know what my options were."
She got a job as a medical assistant in a dermatology office after graduation. She loved the atmosphere and the opportunity to get hands-on experience. "I felt like I was having fun every day," she says. And the physicians were supportive, telling her about graduate programs—like Gateways—that could help her get to medical school.
"Gateways was a big confidence boost," Livingston says. "Being surrounded by doctors who have gone through it and they're saying, yeah, you're struggling, but that doesn't mean you won't get to where you want to be—that was really important to me." She also developed better study habits. "I never learned how to study in high school. I just always got good grades," she says. "Gateways allowed me to learn how to study and develop proper techniques for how I learn best."
The only thing Livingston worried about was the required Community Health Capstone Project. "I had never done research before. It was so intimidating to me in undergrad, and so cutthroat to get a research position," she says. But by building research into the curriculum, Gateways changed her perspective. "Being able to go into a community health center and talk to patients about what their issues are and how we could better service them … I didn't even know that me, this powerless little person here, could even have an effect," she says. (Anandarajah says that Livingston went on to win the Gateways Award for Best Capstone Project that year.)
After graduation, Gateways faculty continued to advise Livingston as she applied to medical school, even Skyping with her to help her practice for interviews. They advised her to choose a school that fit her personality and was close to home, so she'd have family support. She was accepted at the University of Florida College of Medicine, just a five-hour drive from her parents in rural Georgia. "I came and interviewed here and it felt like I was at home," she says.
"If I didn't have Gateways, I don't think I'd be in medical school," Livingston adds. "I've never had that many people believe in me and want to see me succeed."