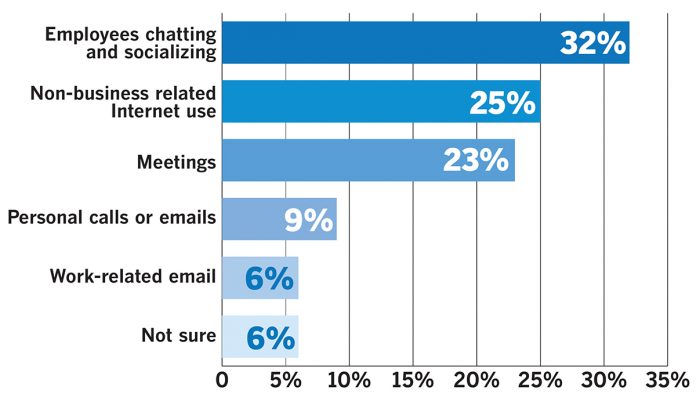 Why didn't Jon Snow pet Ghost? What was he thinking? He hugged everyone – Gilly, Sam, the big redheaded Wildling – but no love for Ghost?
Brienne of Tarth – every woman, I'm telling you. Daenerys has only one dragon left?! Worst loss of the night!
Pity the poor office worker who isn't following "Game of Thrones," the most-viewed series on HBO, now in its final season.
There isn't any way to avoid the chatter about the show on Monday morning. And in some offices, the chitchat continues well into Tuesday.
What is the harm? Well, productivity can take a hit. Office chatter about nonbusiness topics ranging from "Game of Thrones" to the latest "Avengers" movie was cited as the No. 1 office distraction in a recent survey by Robert Half International Inc. through its Accountemps division.
Thirty-two percent of respondents in the recent survey of 1,000 workers said office talk was their biggest time killer.
A close second? Surfing the internet for nonbusiness reasons.
Add in the modern, open-office layouts where people can start, or overhear, conversations more easily, there is potential for a lot of time during which not much work is getting done.
What is a manager to do? It depends how long the talking goes on, and who it's affecting, say some who've dealt with the challenge.
Office socializing can build morale and help people feel better about spending time at work, says Rebecca Risk, metro market manager for Rhode Island and southeastern Massachusetts for Robert Half.
"But if it impacts productivity or the bottom line, then it is something an employer needs to [address]," she said.
More-focused, efficient employees can bounce back from an office conversation and get back on track quickly. Others might be perennially distracted by other people talking.
"The less-efficient co-worker might not be able to get anything done," Risk said.
But office conversations can be bonding experiences, as well as creative.
Kristen Adamo, president and CEO of the Providence Warwick Convention & Visitors Bureau, said office chatter last year led to a website post promoting the Museum of Natural History and Planetarium at Roger Williams Park for viewing a 2017 partial solar eclipse.
That post took off and it far and away outpaced all other bureau web posts for the year.
A "Game of Thrones" fan, Adamo has tweeted her worry over Brienne of Tarth, a newly minted knight who is bound by duty to protect the Stark sisters.
For marketing people who talk a lot, such conversation is part of the creative process, she says.
"We'll have meetings where we might talk about 'Game of Thrones' for a couple of minutes, then it veers back to ad campaigns," she said.
For sales staff, she added, building a rapport with potential clients is critical. One way to do that is to stay on top of pop culture and trends.
"You never know where these things are going to take you," she said.
Mary MacDonald is a PBN staff writer. Contact her at Macdonald@PBN.com.