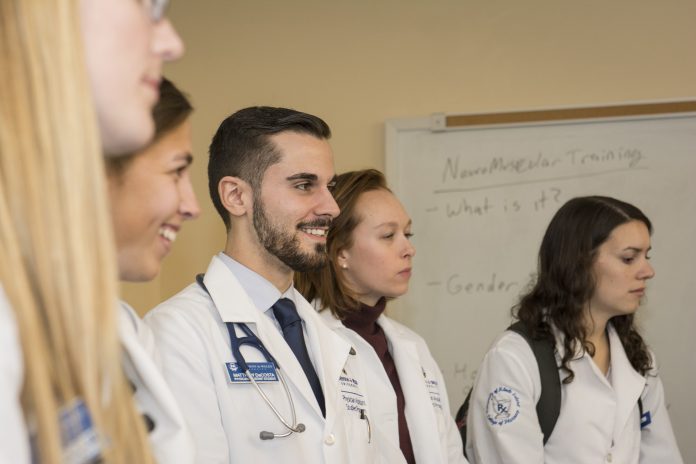 SOUTH KINGSTOWN – Students at the University of Rhode Island will now be able to enroll in Johnson & Wales University's physician assistant master's degree and earn a joint degree upon graduation – according to the state's flagship research institute Tuesday.
A one-way exchange in which URI students can access JWU courses, the collaboration first sought applicants in the spring and will launch during the current academic semester.
After their fourth year of the six-year program, URI students enrolled in the school's doctorate of pharmacy program will be able to apply for the JWU's master of science in physician assistant studies program.
Each year, up to two URI students will be chosen for the opportunity and will begin their physician assistant studies the summer after they are accepted. Attending courses year-round, students will then alternate pharmacy and physician assistant coursework and clinical practicums.
URI students enrolled in JWU courses will pay tuition to the Providence-based private university while participating in the MSPAS program.
Those students selected for participation in the program will graduate with a degree from each university: doctor of pharmacy from URI and master of science in physician assistant studies from JWU.
Citing a preexisting collaboration program between the universities of Washington and Kentucky, URI and JWU claim their program is the first pharmacy and physician assistant joint studies program between a public and a private university.
"Bridging the public-private university divide is significant," said Donald H. DeHayes, URI provost and vice president for academic affairs, in prepared remarks. "This partnership benefits both institutions and ultimately the health and well-being of Rhode Islanders."
JWU was the first school in the state to offer a master's degree in physician assistant studies when it launched the program in 2014. As of September 2018, more than 70 students are enrolled.
Administrators from both schools, as well as the largest health care employer in the state, agree the partnership expands career opportunities for students in the health care field.
"This dual degree will certainly set these graduates apart from their peers, and provide unique opportunities for pharmacy students interested in direct patient care," said E. Paul Larrat, dean of URI's College of Pharmacy, in a statement.
Christine M. Collins, director of pharmacy for Lifespan, sees great value in the new collaboration.
"In our hospitals and ambulatory practices, pharmacists and physician assistants work together to give our patients the expertise of both. Graduates of this new program will have combined that expertise, strengthening the delivery of care," she said in a statement.
Emily Gowdey-Backus is a staff writer for PBN. You can follow her on Twitter @FlashGowdey or contact her via email, gowdey-backus@pbn.com.