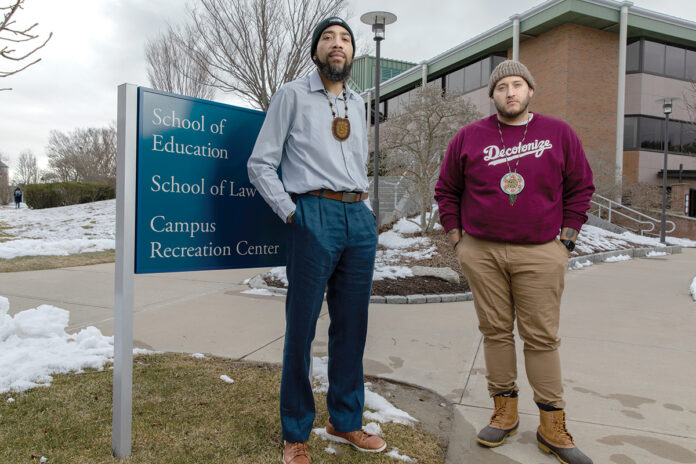 Raymond Two Hawks Watson's adolescent identity crisis was more complicated than most.
As a member, and now chief, of the Mashapaug Nahaganset Tribe, his ancestry played a key role in his upbringing. But his tribe is not among the 574 American Indian tribes recognized by the U.S. Department of the Interior.
"You grow up wondering, 'Am I a real Indian?' " said Watson, 41.
Lack of federal recognition also left him and his fellow tribal ­members ineligible for the many benefits awarded to federally recognized tribes, including education aid, housing benefits, dedicated land and specific legal protections in arrests or court disputes.
Watson is now leading local efforts to correct what he sees as a long-standing injustice not only for his tribe but for the many local and national Indigenous groups that are not federally recognized.
Those efforts began in earnest last year when Roger Williams University – where Watson attends law school – launched its Wutche Wame Living Culture Collaborative. Named after the Algonquin phrase meaning "for all," the three-year plan includes components through its School of Law to establish and fund the first American Indian legal clinic east of the Mississippi River, and to clarify the legal protections for Indigenous tribes without federal recognition.
Signs of progress include the American Indian Student Law Association that Watson and fellow law student Taino Palermo – a Puerto Rican native who also belongs to a tribe that's not federally recognized – founded last year. The law school also debuted a new course on tribal law and tribal government this semester taught by James Diamond, an adjunct professor and dean of academic affairs at the National Tribal Trial College, based in Tucson, Ariz.
'Having American Indians sitting as federal judges, arguing in federal court … is key.'
TAINO PALERMO, Roger Williams University law student
Diamond, with 25 years of experience in criminal courtrooms and extensive experience in Indigenous law, said the class makes RWU a national leader in an area of law few schools address in their curriculum.
"The way we understand law is from a very specific, European, white supremacist lens," Palermo said. "The first case you learn in property law [at a typical law school] is about taking of land from Indians. It's not taught in a culturally contextualized way at all."
Without legal education in American Indian law, attorneys qualified to represent Indigenous people in or out of tribal courts are few and far between, especially on the East Coast, Diamond said.
For example, when land disputes between the Pokanoket Tribe and Brown University came to a head in 2017, the tribe could not find local attorneys with American Indian law experience, said Po Wauipi Neimpaug, the chief, or sagamore, of the Pokanoket Tribe. Instead, the tribe found a volunteer lawyer who specialized in family and immigration law but lent his services after hearing about their protest encampment on the Bristol land that Brown also claimed it owned.
"We were teaching him about the tribal treaties," Neimpaug said of the tribe's attorney.
While the dispute ended in a settlement agreement in which Brown agreed to transfer a portion of the property into a preservation trust, progress has been paused for the Pokanoket Tribe to set up the governance structure to oversee the trust, according to Brian Clark, a Brown spokesman.
Neimpaug remained unsatisfied with the agreement, which mandates that his tribe work on shared ownership of the trust with other area tribes claiming stake in the land.
"They're trying to give other tribes rights to the property when they don't have any," he said.
Had the Pokanokets been federally recognized, the dispute might have been avoided, Neimpaug said. He viewed Brown's unwillingness to acknowledge the Pokanokets' land rights as a symptom of their perceived lack of legitimacy.
Diamond agreed, describing the case as a great example of the legal obstacles faced by tribes that aren't recognized by the government.
It's unclear whether the steps being taken by RWU and the students will lead to changes in laws to recognize the sovereignty of tribes based upon treaties that predate the U.S. Constitution. Watson, Palermo and other advocates have spoken with federal representatives, including U.S. Rep. David N. Cicilline, D-R.I., on possible policy ideas.
In the meantime, plans to open an American Indian legal clinic could help tribes on the East Coast, not only with representation in criminal cases and land disputes, but in the long-term codes and policies to set up their own court systems, Diamond said.
The Wutche Wame initiative lists the creation of an American Indian Legal Policy Institute as a "longer-term initiative" without a set timeline, and an estimated $200,000 cost.
Watson acknowledged these goals will not come to fruition quickly or easily.
"We've been dealing with European colonization for 400 years, so we understand what it's like to wait," he said.
Ideally, the university's efforts and initiatives will also help grow the pool of lawyers-to-be with their own Indigenous roots, too.
"Having American Indians sitting as federal judges, arguing in federal court, representing tribes is key," Palermo said. "That lived experience informs your practice in the same way someone formerly incarcerated can argue as a criminal defense attorney."
Nancy Lavin is a PBN staff writer. Contact her at Lavin@PBN.com.

Want to share this story? Click Here to purchase a link that allows anyone to read it on any device whether or not they are a subscriber.