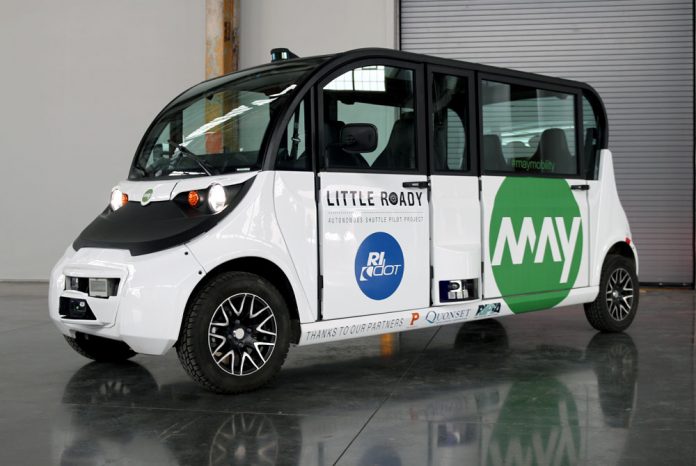 PROVIDENCE – The R.I. Department of Transportation recently hosted a demonstration of autonomous vehicles at Quonset Business Park in North Kingstown as part of the Rhode Island Transportation Innovation Partnership.
Launched by RIDOT in 2017, TRIP is a multi-agency initiative that involves research into autonomous mobility solutions, ridership, workforce impact and other factors, according to RIDOT.
During the first phase of the Little Roady Shuttle pilot project, the vehicles were tested on low-traffic roads at Quonset Business Park, with state and local officials on hand, including Gov. Gina M. Raimondo.
"This project gives us the opportunity to gain firsthand experience with this new technology and that information will be invaluable when we look ahead to the impact that autonomous vehicles will have on public transportation in the future," said Scott Avedisian, CEO of the R.I. Public Transit Authority. "Having some of our bus operators ride the shuttle routes is also going to allow them to share important feedback on the role of onboard personnel and passenger needs."
Each vehicle is fully electricity-powered and can carry six people, including an attendant who is trained to operate the vehicle manually if needed. Up to six vehicles will be on the road at the same time on low-speed roads along the Woonasquatucket River corridor, with 12 stops from Olneyville to Providence Station, RIDOT said.
"We're working … to make our transportation system better, and provide more mobility choices for our customer, the Rhode Island taxpayer," said RIDOT Director Peter Alviti Jr.
Little Roady shuttles are provided by May Mobility Inc., a Michigan company that entered into a public-private partnership with RIDOT last fall. RIDOT will contribute $800,000 for the first year of operation.
RIDOT previously committed to working with Amalgamated Transit Union as part of the program, to study concerns about the effect of automated vehicles on jobs.
Testing will also take place in Providence, RIDOT said, before service begins. The vehicles must pass 500 hours of safety testing overall on avoiding obstacles, staying in lanes, and operating in daytime and nighttime conditions and adverse weather, according to a news release.
A public education campaign with signs along the route and a website will be established as the spring launch gets closer.
Susan Shalhoub is a PBN contributing writer.