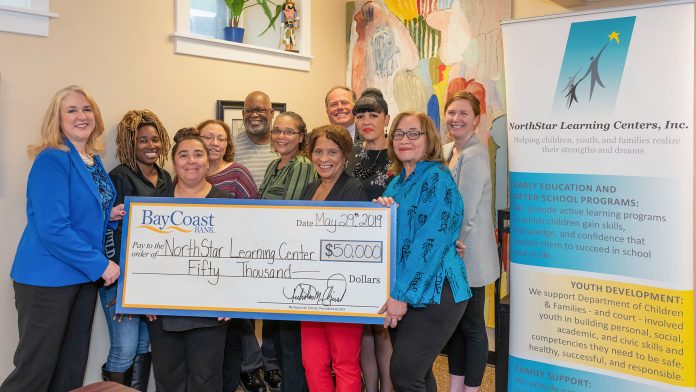 NEW BEDFORD – BayCoast Bank has granted $50,000 to NorthStar Learning Centers toward construction of a new Early Childhood Education Center in New Bedford's South End neighborhood.
The project will encompass a modern 14,000-square-foot Early Childhood Education Center for the exclusive use of low-income, most-at-risk children of New Bedford. The project will expand the capacity of NorthStar's program from 96 to 134 children.
Designed by Davis Square Architects, the two-level center will accommodate 10 classrooms, a parent resource room, gross-motor room, administrative offices, playgrounds and a garden. Each classroom will incorporate teaching technology, STEAM labs and "maker spaces" to stimulate creativity, problem-solving and discovery among students about science, technology, engineering, art and math.
The project will improve the quality of NorthStar's early-childhood education program. Its construction will enable NorthStar to sell its current building and centralize its early-childhood education program in one state-of-the-art building.
Inspired by the civil rights movement, NorthStar was founded in 1974 "to help young people overcome poverty, discrimination, educational disadvantage, violence, and other adversity through learning essential competencies and hopefulness with which they can transform their lives and communities."
NorthStar has 15 programs in New Bedford related to early-childhood education, K-12 student academic support, and youth and family mental health services. Upon graduating from NorthStar's nationally accredited programs, approximately 90% of students go on to academic success, the agency said.