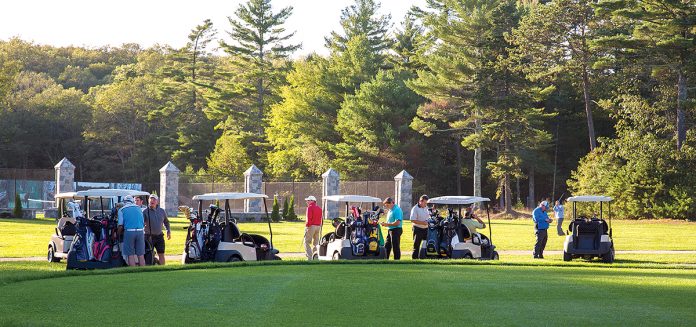 The state's array of outdoor amenities gives businesses a host of options beyond the stereotypical hotel ballroom for summer team-building getaways and other staff gatherings.
At The Preserve at Boulder Hills in Richmond, for example, companies can book a variety of outdoor activities.
Looking for an adventure in the woods? You can find it at The Preserve, says Chairman Paul Mihailides.
"We have the ability to have a golf event, a tennis event, an indoor shooting event, a sporting clay event. We have scavenger-type adventures," he said.
Mihailides noted The Preserve has more than 3,500 acres of land, so individual scavenger hunts can vary greatly. "They may go to the top of a tower and have to search for a clue, then have to go to a zipline and have to find the right ribbon to [ride] down. They might have to swim across a pond, or hike a mile," he said.
"Depending on the client's wishes, you can have something that lasts for an hour or for days," he said.
Among the companies that have used The Preserve for corporate events are Massachusetts-based Biogen, which Mihailides says has been to The Preserve three times, and Providence-based Citizens Bank. Both large and small companies have held events at The Preserve.
"We're an amenity-rich community," Mihailides said. "We have people that have little tennis round robins that come in, we have sporting events that people come in. … You can have 10 people or we've had as many as 250.
"[Pawtucket-based] Hasbro Inc.'s been out here. … We are very fortunate to be highly thought of in the outdoor community," he said.
Since its opening in July 2015, The Preserve's amenities have grown, especially with the addition of an automated, indoor shooting range. It also has meeting rooms and a lunch room where you can dine if you have 15-20 people, he said.
The Preserve also features a 350-seat banquet facility, a brand-new 18-hole golf course and fly-fishing ponds.
As a private club, Mihailides says many of the corporate events that they have are arranged through members. "Members join and they want to have their companies here. We want to be amenable to the public and people that enjoy the facility," he said.
Another Rhode Island entity uses different outdoor amenities and attractions to lure corporate business.
At the Roger Williams Park Zoo in Cranston, events are held both at the zoo and in the Carousel Village, said Stacy Greenberg, group-events planner. "Our most popular options are either renting out a space during the zoo day where the company can gather or renting the zoo after-hours for an exclusive outing," she said. Options include animal encounters, exhibit talks or a bounce house and face painters for events with children.
Zoo events are mostly used as an employee-appreciation gathering, Greenberg said. "It's a chance for the team to get together, reconnect and really enjoy themselves," she said.
The zoo has a multipronged approach to promoting events, including a PR department that will share offerings with agencies and companies. The zoo also does well with repeat participants, Greenberg said.
"They know they can't get it anywhere else, and they really appreciate that we can continue to deliver for them," she said.