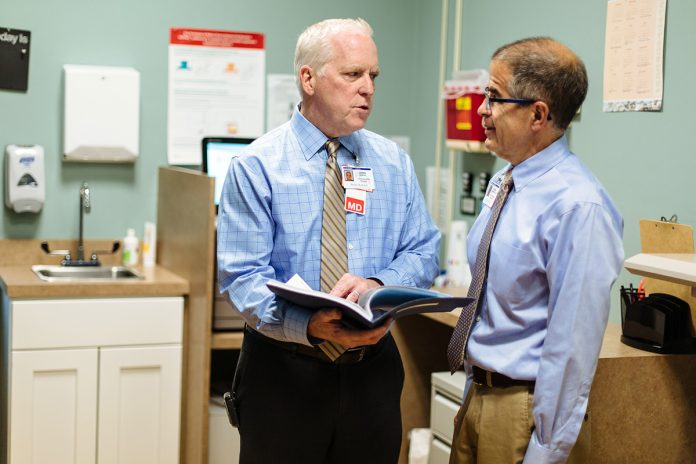 By law, mental or behavioral health and physical health should be treated with parity by insurers but Rhode Island lawmakers and insurance professionals say in practice, that hasn't been the case.
New legislation sought by Gov. Gina M. Raimondo, and recently approved in the Senate, would require health insurers to include behavioral or mental health counseling as a primary care visit. A companion bill in the House recently had a hearing but has been held for further study, according to a spokesman.
Sponsored by Sen. James Seveney, D-Bristol, the Senate proposal would specify that counseling visits, as well as medication-maintenance visits, be included as a primary care visit under the provisions of any health plan.
Now, sometimes the terminology is interpreted differently by various insurers, and the result is that patients have been charged more than they would be for a physical ailment, said Seveney and Marie L. Ganim, the Rhode Island health insurance commissioner.
"It fixes an inequity that exists right now between physical health care and behavioral health care, mental health care," said Seveney. "In many cases, for example, if you went to the doctor because you broke your arm, you pay your copay and then you go on your way. If you show up for a mental health issue or a substance-abuse counseling visit with a doctor, or treatment of some sort, you would be treated somewhat differently."
Raimondo asked him to introduce the bill, he said. The governor was motivated to act after speaking with families affected by the state's opioid crisis, Ganim said, and the issue emerged as a problem.
In its details, the bill specifies that treatment of mental health and substance use disorders be covered under the same terms and conditions as other illnesses and diseases.
Coverage for the treatment of mental health and substance use disorders will not be subject to any annual or lifetime dollar limitation.
And the financial requirements and quantity limitations for coverage of mental health and substance use disorders will be "no more restrictive" than the same requirements applied to other medical conditions, the bill states.
Ganim, who represents consumers in health care insurance issues, said the different interpretations often fall to the use of specific terms in existing parity law, including a requirement that insurance coverage for mental health be treated "under the same terms and conditions" as physical health.
"How do you compare a visit to a primary care doctor to another specialist?" she said. "What is 'comparable' care and services?"
The practice has been for the copay for a mental health professional to be charged at the "specialist" visit rate, where as a visit to the primary care physician, for vaccinations or similar service, comes at the reduced "primary care" rate.
"Mental health services have been applying a higher cost. That has been the insurance practice," she said.
The larger issue for the public, she said, is one of perception.
"What this says to the patient, it's that 'I have an ongoing issue that needs to be monitored and I have to pay more,' " she said.
There also is the potential that people could be dissuaded from seeking the services, if they cost more, or just too much. The copay is one issue, but how much treatment is covered by the insurance company is another, Seveney said.
'One of the big problems with all of this is … getting people to seek help in the first place.'
SEN. JAMES SEVENEY, D-Bristol
"One of the big problems with all of this is that stigma and getting people to seek help in the first place," Seveney said.
Insurance companies offered measured responses to the legislation.
Blue Cross & Blue Shield of Rhode Island spokeswoman Jill Flaxington said the company supports the bill, and said it is consistent with its own effort to reduce barriers to behavioral health care.
The insurance company in May announced it would make the copay for behavioral health office visits consistent with primary care office visits but make it effective Jan. 1, 2019.
Neighborhood Health Plan of Rhode Island said it, too, supports the bill, and already has a policy of equal copayments for behavioral health services and medical services. "Since the inception of the commercial market in 2014, Neighborhood's plans sold on the [health insurance] exchange have had equal copayments between primary care and behavioral health visits," said David Burnett, the company's chief growth officer. "Additionally, Neighborhood has been a leader in adjusting prior-authorization policies to improve access to medication-assisted treatment and closing gaps in care for members who have been discharged from medical facilities with evidence of substance abuse disorder."
James K. Sullivan, senior vice president and chief medical officer at Butler Hospital, which specializes in both addiction disorder and psychiatric care, said the proposed law is good policy.
"It speaks to equal availability for treatment for individuals who suffer from mental health disorders and conditions of addiction," he said.
The bill, if approved, would reduce barriers to health care, he said, by equalizing conditions. The higher copays associated with the "specialist" designation is stopping people from seeking treatment and follow-up visits, he said.
"If there is a higher copay for services, that can be a limitation for people who are already ill and may be struggling financially, perhaps out of work because of the illness," he said.