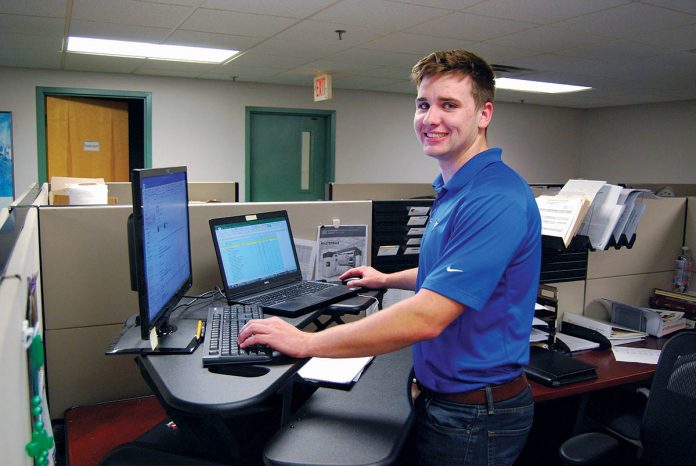 Healthiest Employees: 2-149 Employees | #1. Parkinson Technologies Inc.
CEO (or equivalent): Peter Termyn, CEO and president
Employees: 98
---
Woonsocket-based Parkinson Technologies Inc. makes web-processing systems for industries such as plastics and paper. Rather than adopt a cookie-cutter model for its annual wellness-fair offerings, said Human Resources Director Jennifer Newman, the company considered its industry and planned accordingly.

It's a machine shop, after all – a fact that called for free audiology testing offered to employees alongside the blood-pressure, diabetes and cholesterol checks.
"My father worked on a research vessel for 30 years with constant background noise," said Newman. "It's become more difficult for him to discern what's being said to him as opposed to what's being said behind him."
This personal experience – as well as the fact that Parkinson's 100 or so employees represent an aging, skilled workforce – drives the company to be proactive about protecting employees' hearing, Newman said.
The wellness fair at Parkinson each fall offers flu and shingles vaccines if available, healthy snacks and drinks – even free toothbrushes, said Newman. "It's in the cafeteria, all set up," she said of the fair, making it easy for employees to stop by during work.
"It allows people to become more familiar with their own situations," said Newman, as well as become educated on potential signs of risk for myriad conditions, such as stroke.
With up to 88 percent of Parkinson's employees being men, who may not see a need to visit a doctor unless an issue arises, it's even more important to offer these on-site checks, Newman said. "This is a basic check over. It's to give them a heads-up, 'You might want to get this checked out.' It encourages them to take it a step further."
Promoting a safe work environment is a message also boosted by regular visits from a safety expert from the company's insurance agency. The company posts signs and educates workers on safety procedures, offering subsidies for things such as work boots and protective eyewear on the factory floor.
The wellness fair and workplace-safety efforts are paired with its eight-week weight-loss event, The Biggest Loser.
The company strategically offers the weight-loss competition every few years, not annually, mixing up the incentives, team structures and keeping it fresh. For example, one year teams were organized by department. Another year it was a mix of participants across the company. Regular updates on how the group is performing as a whole and reminders of events help keep everyone on track. Last time, participation was at 40 percent.
In addition to the main prize, a $500 gift card of their choice, there are rewards along the way, said Newman.
"If you attend seven out of the nine weigh-ins, you get a $50 Whole Foods gift card," she said. Using Weight Watchers or Real Appeal, the free online weight-loss program offered through UnitedHealthcare, employees are entered in a raffle for a $100 Amazon gift card.
Employee access to a nurse and a nutritionist help round out Parkinson's wellness offerings.
This winning wellness formula has produced a 14 percent hike in insurance rates over four years – far lower than average, said Newman. Workers' compensation claims have fallen 88 percent, and absenteeism has dipped 34 percent over the past five years.
Newman said that the Parkinson management team leads by example. The company's chief financial officer is an avid biker. Its CEO is a healthy eater, she said. Its vice president of engineering is on a soccer team.
The focus on health, safety, wellness, education and leadership is strengthened by Parkinson's efforts to make exercise easy. A nearby walking trail, basketball court, bike storage and on-site shower facilities encourage physical activity.
Ryan Tracey, electrical assembly supervisor, recently completed the 52-week Real Appeal system.
"I am now eating healthier, exercising more and feeling great, thanks to the lifestyle changes instilled by the program," he said.
A healthy thought:
'This is a basic check over. … It encourages [employees] to take it a step further.'
Jennifer Newman, Human resources director, Parkinson Technologies Inc.