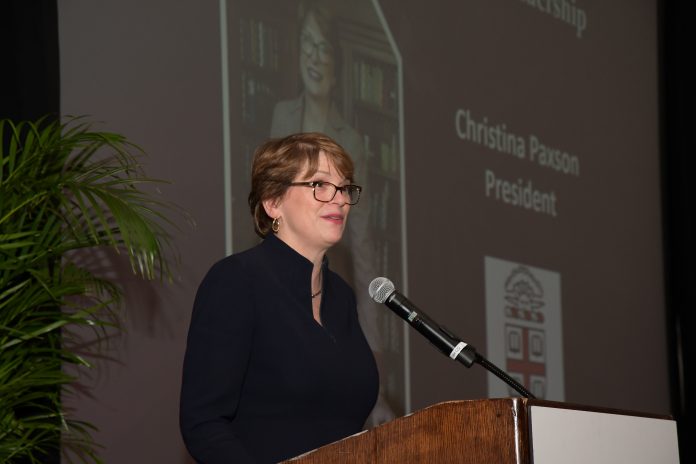 PROVIDENCE – With more than 225 of the region's business leaders in attendance, Brown University President Christina H. Paxson and Lifespan President and CEO Dr. Timothy J. Babineau headlined Providence Business News' 18th Business Excellence Awards program, held Wednesday evening at the Omni Hotel Providence.
Paxson was given the program's Business Leadership award based on her success at Brown, charting a path that is strengthening both the institution – through its $3 billion BrownTogether capital campaign, among other things – and the region, as the school recognizes its importance as an economic engine well beyond its walls.
In remarks to the attendees, Paxson said that major research institutions such as Brown today embrace the positive impact they can have on the communities in which they are located, supporting discovery, development and entrepreneurship. She added, however that even an enterprise as large as Brown cannot do it alone, pointing to collaboration as a key to progress.
Paxson cited South Street Landing as a prime example of multiple parties working together to create a catalytic project in the city's Jewelry District. The former power station includes administrative offices for Brown as well as an advanced nursing education center for the University of Rhode Island and Rhode Island College. Joining in on the re-purposing of the building was a private developer as well as the city and state, with the end result being a signature structure that serves as an entrance to the former Interstate 195 land being redeveloped.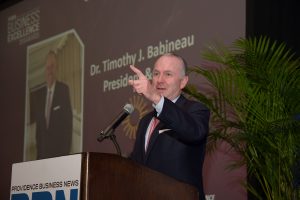 Babineau was recognized for Corporate Citizenship, the BEA category that honors recipients for their efforts outside their prime responsibilities. Babineau himself was recognized for Business Leadership in 2013 as the chief executive of the state's largest private employer.
In his brief speech to those in attendance, Babineau pointed to the power of collective action, quoting famed anthropologist Margaret Mead: "Never doubt that a small group of thoughtful, committed citizens can change the world; indeed it's the only thing that ever has." Babineau added that he was fortunate to work with a rather large group of thoughtful, committed citizens at Lifespan, ones who are trying every day to make the world a better place.
The rest of the evening included video interviews and award presentations with all the other BEA winners:
Excellence at an Enterprise Company: Blue Cross & Blue Shield of Rhode Island
Excellence at a Large Company: Starkweather & Shepley Insurance Brokerage Inc.
Excellence at a Mid-Size Company: Trinity Repertory Company
Excellence at a Small Company: Capital Good Fund
Community Involvement: National Grid Rhode Island
Excellence at a Social Service Agency: Adoption Rhode Island
Excellence at a Nonprofit: Local Initiatives Support Corp. Rhode Island
Excellence in Education and Learning: Project GOAL Inc.
Entrepreneurship: Renaud Megard, president and CEO, NFI Corp.
Family-owned Business: Ocean State Job Lot
Workforce Development: William M. Davies Jr. Career and Technical High School
Women-owned Business: Gil's Appliances