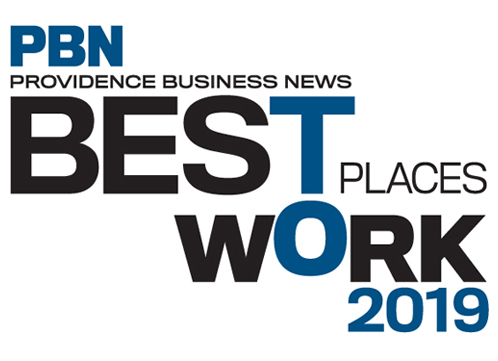 PROVIDENCE – Providence Business News has announced the 60 honorees for its 2019 Best Places To Work competition.
The companies were judged based on human resource policies and confidential surveys of employees compiled by Best Companies Group. The top honorees will be named in each of the four size categories at an awards gala at the Crowne Plaza Providence-Warwick on June 13.
The 2019 Best Places to Work honorees (listed alphabetically), grouped by number of regional employees:
Small employer category (15-49 employees in the region)
Banneker Industries Inc.
Barnum Financial Group
Big Brothers Big Sisters of Rhode Island
Bridge Technical Talent
Brokers' Service Marketing Group II LLC
Carey, Richmond & Viking Insurance
Compass IT Compliance
Connectivity Point Design & Installation
DarrowEverett LLP
Davitt Inc.
Envision Technology Advisors LLC
Healthcentric Advisors
MAS Medical Staffing
New England Construction
Peregrine Property Management
Province Mortgage Associates Inc.
Rhode Island Foundation
Rhode Island Kitchen & Bath
Rhode Island Quality Institute
Sweenor Builders Inc.
Vertikal6
Midsize Employer category (50-149 employees in the region)
CBIZ & MHM
Chisholm Chisholm & Kilpatrick Ltd.
Custom Computer Specialists
DiSanto, Priest & Co.
Edward Jones
Elite Physical Therapy Inc.
EMC Insurance Cos.
Hinckley Allen & Snyder LLP
The Hilb Group New England
LFI Inc.
Marasco & Nesselbush LLP
Narragansett Bay Insurance Co.
National Marker Co.
Pariseault Builders
People's Credit Union
The Providence Mutual Fire Insurance Co.
Sansiveri, Kimball & Co. LLP
Shawmut Design and Construction
Starkweather & Shepley Insurance Brokerage Inc.
The Town Dock
TribalVision
Westerly Community Credit Union
Large Employer category (150-499 employees in the region)
BankNewport
Brown Medicine
BD (formerly C.R. Bard Inc.)
Children's Friend
Collette Travel Services Inc.
Embrace Home Loans Inc.
Gilbane Building Co.
Narragansett Bay Commission
Navigant Credit Union
Pawtucket Credit Union
Performance Physical Therapy
Providence Community Health Centers Inc.
Rhode Island Housing and Mortgage Finance Corp.
Enterprise Employer category (500 or more employees in the region)
Amica Mutual Insurance Co.
Amgen Rhode Island
Blount Fine Foods
The Washington Trust Co.
The awards ceremony and dinner celebrating the Best Places to Work will take place on Thursday, June 13, from 5:30-8:15 p.m. at the Crowne Plaza Garden Pavilion at the Crowne Plaza Providence-Warwick in Warwick.
Make plans to attend by visiting the PBN Events page.
Presenting sponsor is UnitedHealthcare. Partner sponsors are Chisholm Chisholm & Kilpatrick Ltd., Cox Business and Pawtucket Credit Union.