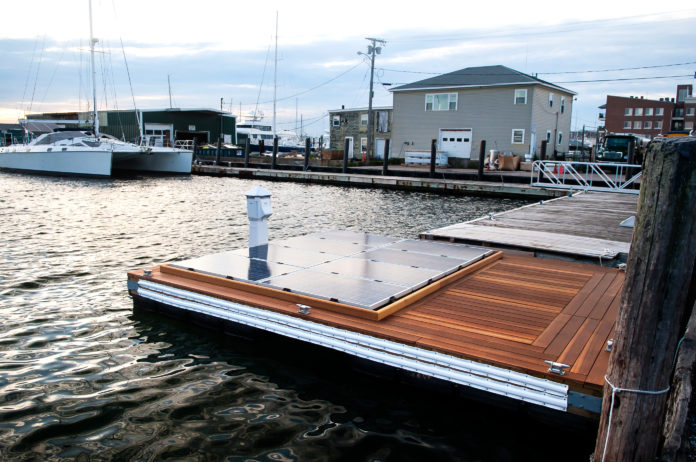 NEWPORT – PowerDocks LLC has launched its floating solar-panel Blue Isles platform in Newport Harbor, allowing boaters to access free Wi-Fi and recharge electric-powered vessels.
"We are excited to showcase our new product innovation in Newport, the sailing capital of the world," said Anthony Baro, managing partner of PowerDocks. "Boaters visiting Newport Harbor will be the first ever to access renewable power while docked at a mooring."
The Blue Isles platform, the first of its kind, will provide free solar-generated electrical power and Wi-Fi to vessels docked within 300 feet of its mooring in the public anchorage area north of the Goat Island causeway.
The launch was made possible through the city of Newport's partnership with PowerDocks.
"With the introduction of this aquatic microgrid, we are continuing our commitment to embracing new environmentally friendly innovation into our harbor," said Newport Mayor Harry Winthrop. "We will continue to bring the best in innovative ocean-related infrastructure to support economic diversification to ensure our harbor continues to prosper."
The partnership with Newport is only the latest for Newport-based PowerDocks. In January, PowerDocks partnered with BCube Analytics Inc., a software and tech company based in Fall River, to develop an integrated communications network for marine docking stations such as Blue Isles.
Last year, the company received a $30,000 Innovation Voucher from the R.I. Commerce Corp. for its collaborative research project with Roger Williams University to develop wireless charging for air and underwater robotic drones. The goal is to encourage Rhode Island's boating community, maritime companies, defense contractors and the military to switch from fossil fuels to renewable energy.
"We wanted to provide a solution for those boaters that are environmentally conscious and have embraced electric marine propulsion for their vessels," said Chris Fagan, another managing partner at PowerDocks.
Kaylen Auer is a PBN contributing writer.