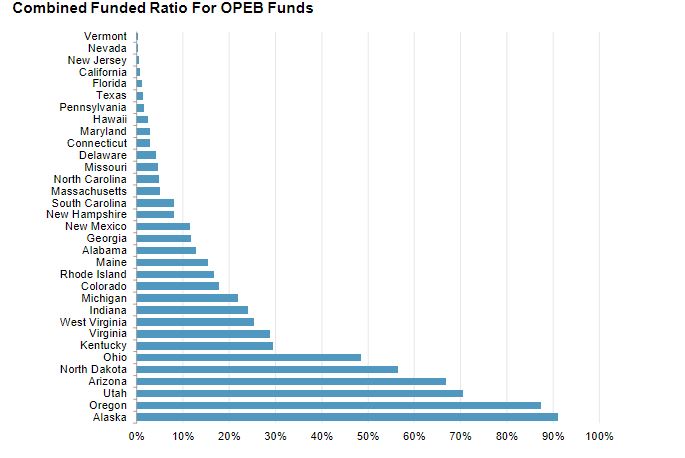 PROVIDENCE – Rhode Island's "other post-employment benefit liabilities," which typically consist of retiree health plans, are only 16.5 percent funded, according to S&P Global Ratings Tuesday, which noted that Rhode Island is hardly alone in such a predicament.
The report found that of states with OPEB liabilities, only six states had OPEB liability funding greater than 30 percent for state workers.
Rhode Island ranked No. 13 highest in the country for its OPEB liability funded ratio, and was the top-ranked state in New England.
Alaska ranked No. 1 in the country with a 90.9 percent OPEB liability funded ratio (although S&P Global Ratings noted that the state uses a discount rate of 8 percent for its pension and OPEB funding calculations, which would decrease the size of its liabilities).
S&P noted that by 2030, all baby boomers will be older than 65, and that one in every five United States residents will be of retirement age, which could serve to accelerate OPEB liabilities growth, potentially making such benefits unaffordable. The report also said that while some states may have the flexibility to adjust benefits, practical barriers may still exist, such as union negotiations, remaining competitive to hired skilled workers, and social and political implications.
The report also said that the national rise in unfunded OPEB liabilities was primarily caused by continued "extensive underfunding and updated OPEB actuarial studies," as well as updated and more conservative accounting standards.
Rhode Island's total OPEB liability was reported to be $770 million as of June 2016, of which $643 million was unfunded at that time.
Still, Rhode Island's net unfunded OPEB liability per capita was $607, less than half of the median U.S. unfunded liability per capita at $1,296 and U.S. average at $1,777 per capita.
The report also noted that Rhode Island, despite having underfunded OPEB liabilities, was contributing 100 percent of its annual required contribution at $53 million per year. Rhode Island had the sixth-highest OPEB contributions as a percentage of annual required contribution in the country behind Kentucky, Utah, Maine and Nevada.
Chris Bergenheim is the PBN web editor. Email him at Bergenheim@PBN.com.