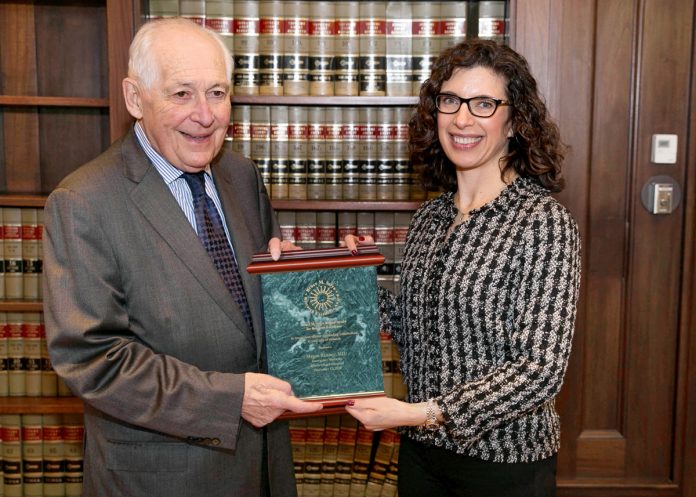 PROVIDENCE – Lifespan Corp. recently announced that Dr. Megan L. Ranney, an emergency medicine physician and injury-prevention researcher, is the winner of the 2018 Bruce M. Selya Award for Excellence in Research.
Ranney was nominated by Dr. Brian Clyne, in his capacity as Lifespan's interim physician-in-chief for emergency medicine and interim chair of emergency medicine at the Warren Alpert Medical School of Brown University. The company presented Ranney the award at the Lifespan Annual Meeting.
The Lifespan board instituted the award in 1999 to honor Judge Bruce M. Selya, chairman of the Lifespan board from the creation of Lifespan in 1994 until 1999. The award was intended as a recognition of Selya's "steadfast commitment to academic medicine and his keen insight concerning the importance of academic programs to quality health care at Lifespan."
The award is intended to recognize a rising star in research, an independent investigator who has demonstrated excellence through a record of high-quality, peer-reviewed publication and ability to attract research funding, according to the company.
Ranney has distinguished herself in the field of emergency mental health research and violent injury prevention, particularly firearm injury prevention, according to the company's announcement. She is an expert in nonpartisan public health research on firearm injury, according to the statement, and is among a group of physicians nationally bringing the matter to the public's attention. She is frequently interviewed by local and national media outlets on the subject.
Ranney founded and directs the Emergency Digital Health Innovation Program at Brown. She is an associate professor of emergency medicine in the medical school, and of health services, policy and practice in the School of Public Health. She has published widely, with more than 100 scientific publications and 70 presentations at scientific meetings.
She serves as chief research officer for the American Foundation for Firearm Injury Reduction in Medicine and has held roles on numerous national and local task forces related to efforts to stem gun violence, including co-chairing Gov. Gina M. Raimondo's Task Force on Gun Violence.
Rob Borkowski is a PBN staff writer. Email him at Borkowski@PBN.com.