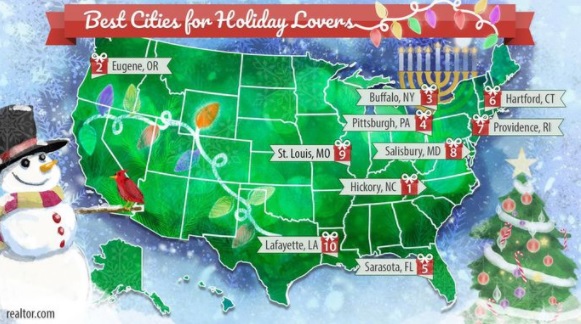 CHICAGO – Realtor.com, the public website of the National Association of Realtors, believes that some cities are more festive for the holidays than others. And on a list of the most holiday-spirited cities in each of the 50 states, Providence landed in the top 10.
Placing No. 7 on the list, Providence was praised for going beyond the usual, with the annual Trinity Repertory Company's production of "A Christmas Carol," the holiday-themed F.I.T. 'Mas 5K Trail Race-TrailFecta and the Rhode Island Christmas ornaments sold at the Statehouse (thankfully, the state's ranking did not depend on the condition of the Statehouse Christmas tree).
Also noteworthy for the Realtors: the region is home to Hasbro, maker of the toys and games that so many children look forward to receiving as gifts at this time of year.
Rounding out the list:
Hickory, N.C.
Eugene, Ore.
Buffalo, N.Y.
Pittsburgh
Sarasota, Fla.
Hartford
Providence
Salisbury, Md.
St. Louis
Lafayette, La.
The criteria for the list were:
Google searches for "Christmas Parade," "Hanukkah," and "Festivus"
Seasonal cashiers as a percentage of all employees
Percentage of realtor.com home listings with a fireplace or chimney (because, Santa)
Christmas tree and holiday decoration businesses per capita
Toy stores per capita
Alcohol consumption rates by state (holiday parties, oh my!)
Number of Christmas trees cut down per state
Percentage of all flight arrivals between Dec. 19 and Dec. 23 (to estimate how many folks are going home for the holidays)