Rhode Island wants its own share of the biomedical-, technology- and engineering-based economy that has transformed Boston, and strengthened the competitive position of Massachusetts.
To that end, over the past several years, the Ocean State has made significant public investments in creating an innovation district in downtown Providence, as well as one aligned with the state's public research institution, the University of Rhode Island.
In addition, three universities in the state – URI, as well as the private Brown University and Johnson & Wales University – have opened or are nearing completion of new facilities for engineering education and research.
For the state, the end game is more high-paying jobs and an economic landscape more immune to the typical business cycle, unlike the current mix of jobs and companies here. The strategy to get there is a fundamental realignment of its economy and workforce, designed to be fueled by new employment opportunities and companies created through university collaborations.
But to get there you have to play the long game. The pipeline typically begins with competitive research grants, which are sought after by professors and physicians working on new technologies and inventions.
That could lead to innovations that, with time, could be patented and licensed, transferring the knowledge and research fueled in the universities to the marketplace.
It's easier said than done.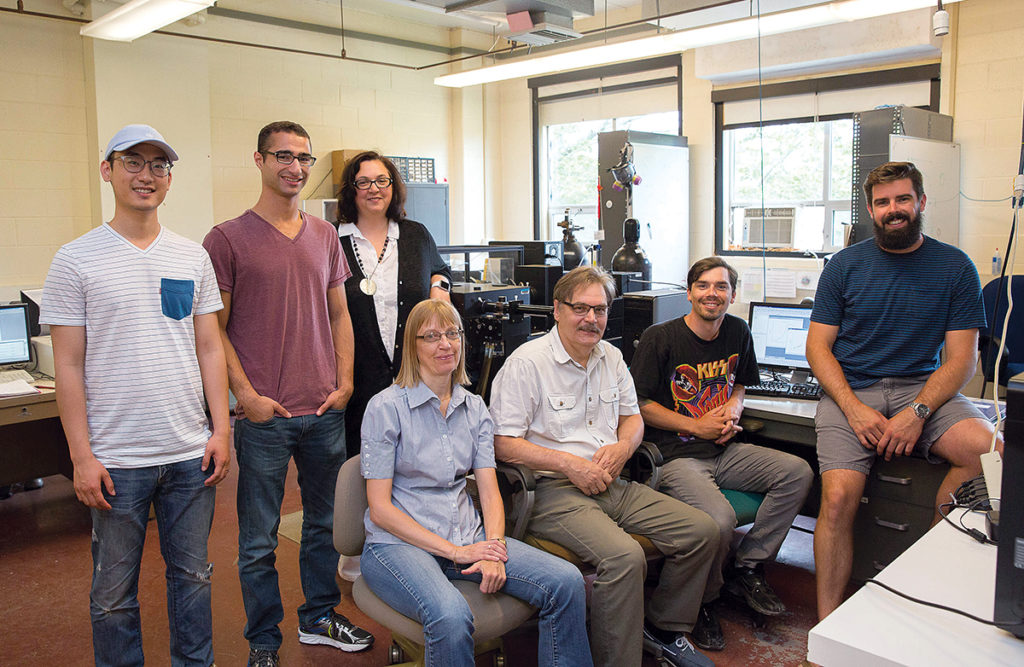 Historically, the Ocean State has been a small player in patent production, and it is unclear if the recent investments will be enough to change that status.
None of the state's institutions, public or private, cracked the top 100 last year for production of U.S. patents among worldwide universities, according to a report by the National Academy of Inventors and the Intellectual Property Owners Association.
The five-campus University of Massachusetts system found itself sharing 36th place, with a combined 58 patents issued in 2016.
By comparison, URI had eight patents awarded last year, and over the past five years, the university has had six to eight U.S. patents approved annually. A peak came in 2011 and 2012, when URI had 22 patents approved over the two-year span, according to records provided by the university.
Brown, meanwhile, had 20 U.S. patents issued last year, according to its records, and that represented an increase over the levels recorded for the five prior years. The Ivy League university had 14 approved patents in 2015, 13 in 2014 and 17 in 2013. In 2012, it had just three U.S. patents approved, according to university data.
By another measure, the Milken Institute's Concept to Commercialization report on activities at the largest research institutions, Brown came in at 151st place, based on four factors, including patents issued and startups created. URI came in at No. 190 on the list.
Other Rhode Island schools are also pursuing patents, albeit on a limited basis. Roger Williams University and Providence College, for example, each have a pending patent application and say they are considering seeking more.
Teaching versus research
It may be easy to see the connection between patent creation and entrepreneurial success, but significant resources have to be applied to the former to generate the latter. And at institutions focused on teaching as well as research, the tension plays a role in just how much research goes on.
At Brown, the patent activity is targeted to technologies that can be commercialized. This excludes much of the research at the university that may not have a financial component, explained Katherine Gordon, managing director of the university's Technology Ventures Office. The process itself is time-consuming, typically taking more than three years between initial application and approval, she said.
"We're trying to increase our pipeline so we do more deals," Gordon said. "We're scaling up the activity."
At Brown, most of the patent activity is centered around engineering, physics and biomedical research. Engineering, for example, is now contained within its own school, an elevation made seven years ago that has resulted in more faculty appointments and investment. The university this year is completing construction of an $88 million facility for the school, including specialized space for nanoscale and biomedical engineering programs.
URI, the state's only public research university, is completing a similar large-scale expansion of its engineering programs, to be contained in a new $125 million complex.
But along with the research mission, URI has prioritized teaching and advancing its educational programs.
For this reason, even for professors working on innovations that could lead to patents, there is an expectation that they will continue actively teaching, according to Michael Katz, the university's associate vice president of intellectual property and economic development.
URI has hired professors in departments, including engineering, and is trying to make a bigger name for itself nationally in these fields, Katz explained.
"We depend heavily on the teaching conducted by our faculty, as well as the research," he said. "There are universities where research is more important." But students play an important role as well.
"The way you really build a research portfolio is by having as many hands contributing to it and brains contributing to it as you can afford," Katz said. Graduate students and others who can contribute come from grants, he said. And from those grants comes patentable intellectual property.
Professors who are teaching and researching need to strike a balance, so that one doesn't outweigh the other, said Yana Reshatnyak, a professor of physics at URI.
She teaches one graduate course a semester, and that works well, she said. It helps the students understand the application of what they're learning, and her research lab benefits from the circulation of top students who want to work with her.
Together with her husband, Oleg Andreev, also a professor at URI, and Donald Engelman, a colleague at Yale University, Reshatnyak holds nine patents and has another 11 applications pending. They have developed a technology that they believe can be used to both detect and treat cancer tumors more efficiently.
Reshatnyak said URI needs more emphasis on research, in part because it's a valuable form of education for students. "For the students … especially for those with Ph.D.s, we prepare them to enter the world," she said. "They might be researchers. They might be working in hospitals or industry. But when they participate in research, real state-of-the-art research, it's a completely different story rather than just teaching."
Size, mission matter
At universities, patent production is partly a reflection of size, and this being Rhode Island, it can be an issue.
Thus, while Brown has many internationally known researchers, the number is limited, in no small part because of the size of the student body. According to PBN's 2017 Book of Lists, Brown in the 2015-2016 academic year had 6,318 undergraduate students, as well as 3,140 "other students."
URI is bigger than Brown – with 12,293 undergrads and 4,538 "other students." But those two institutions are clearly not of the same size as the big regional players.
According to online lists, the University of Massachusetts system has 56,861 undergraduate students, along with 17,635 graduate students. Harvard University has 6,655 undergrads, as well as 3,738 graduate students and 10,722 professional programs students, while the Massachusetts Institute of Technology has 4,524 undergrads but 6,852 graduate students.
Another factor is the institutional approach to creating intellectual property. At Brown, the philosophy is to make sure the public can make use of the research. "We're actively trying to make sure we're … pushing these technologies into the public sector," Gordon said.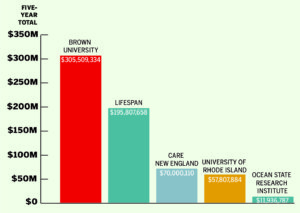 Invest now, harvest later
What Rhode Island needs is a strengthened ecosystem for university-based technologies and inventions to flourish, explained Jeffrey Morgan, co-director of the biotechnology graduate program at Brown, as well as a professor of medical science and engineering. In 2014 he received a $1.4 million grant from the National Science Foundation to research microtissues. His research's goal, he said, is to replicate human tissue and organs for use in transplants. A company he founded, MicroTissues Inc., distributes and sells the technology worldwide from its home in Sharon, Mass.
To be like Boston, Rhode Island needs more depth and variety in activities and individuals that support innovation-related businesses. "A good, healthy ecosystem has … big companies, medium companies, small companies," said Morgan. "It has investors, academics who are passionate about this endeavor, and Ph.D. students, master's students and undergraduates."
At Brown, Morgan said there is a transition taking place. "We have these two identities. One is the undergraduate college. The other is the research university. So there's a tension between those two. When you think of MIT, you think of a research university."
URI, Katz said, remains a relatively small institution, although it is trying to escalate its activity in producing patentable technologies and innovations.
One of URI's stars is Walt Besio, an associate professor of biomedical engineering who holds six patents and founded a startup company, CREmedical Corp., to convert the research into products.
He's become a mentor and senior faculty member, and is building a new department at URI, focused on neural engineering.
'I want to save lives … and alleviate suffering. … To do that, I had to create [CREmedical Corp.]'
Walt Besio, URI associate professor of biomedical engineering
The recipient of a $6 million grant from the National Science Foundation, Besio and his colleagues at institutions in Kentucky and Oklahoma have developed sensors that allow them to study the activity of the brain, and are researching how to mitigate the effects of seizure disorders, such as epilepsy and Huntington's disease.
Ultimately, the founding of CREmedical was motivated more by cause than profit, he said. Universities are not set up to sell products, or commercialize research, as much as a company is.
"I want to save lives, prevent disease and disabilities, and alleviate suffering," Besio said. "I've got to get these things out where … they will be put to use and save lives. To do that, I had to create the company."
Collaboration across ­institutions
State officials last year hired the Brookings Institution, a Washington D.C.-based public policy organization, to evaluate the Rhode Island economic base and recommend a path to strengthen it. The organization's findings support the increased emphasis on research and technology transfer.
Brookings found the state had a "wide breadth" of research core competencies in 17 areas relating to economic-development clusters, including neuroscience, infectious diseases, pharmaceutical sciences and public health.
And yet Brookings also found poor connections between the state's universities and industry, weak commercialization of university research into new startups and a lack of life sciences laboratories for emerging companies.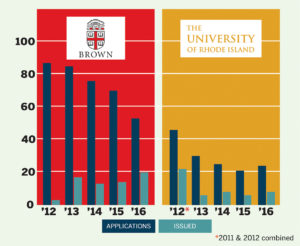 Mark Muro, senior fellow and policy director for Brookings' Metropolitan Policy Program, said the conversion of creative ideas into new businesses is essential.
"Innovation is a way that a firm or industry or place can distinguish itself from others. … Innovative young firms often grow faster, and are a better source for jobs," he said.
To support that idea, in November, Rhode Island voters approved a $20 million bond that will allow the state to create an innovation district affiliated with URI.
Its purpose, according to state officials, is to better commercialize the academic research taking place in Rhode Island, creating new products, technologies and ultimately, more jobs.
Under the guidelines issued by the R.I. Commerce Corp. for applications, the innovation district does not have to be located in South Kingstown, at the main Kingston campus.
Besio thinks that would be a mistake.
Collaboration is critical, Besio said, and he has long advocated for an incubator on the URI campus. This would draw in people who know how to produce and sell products, and the university professionals who are advancing technologies.
"I'm not a businessperson. Many of my colleagues, who generate these patents, they're engineers," he said.
Muro agrees and supports the innovation center. "There was not a lot of evidence of great tech transfer of innovation. There needs to be more."
Another nexus
"The universities in different ways have not been real leaders in the economic-development side of this until recently," Muro said. "There has been much more recognition lately that this is important. … It requires institutions, it requires investment and mostly steady attention over time."
And while Brown has been the most successful at attracting NIH grants in Rhode Island, hospitals have been significant magnets for federal funding as well (some of Brown's awards are no doubt connected to The Warren Alpert Medical School's relationships with the state's hospitals). Lifespan and its member facilities collected nearly 30 percent of $666 million in National Institutes of Health grants awarded in Rhode Island in the last five years (2017 is still in progress). Care New England institutions accounted for another 10.5 percent.
The National Science Foundation, meanwhile, has contributed $208.9 million in active research grants to Rhode Island universities and research teams (some of these grants are a year old while others go back as far as 2011). Only some of this research results in commercialized technologies or devices, but it's ­typically the first step.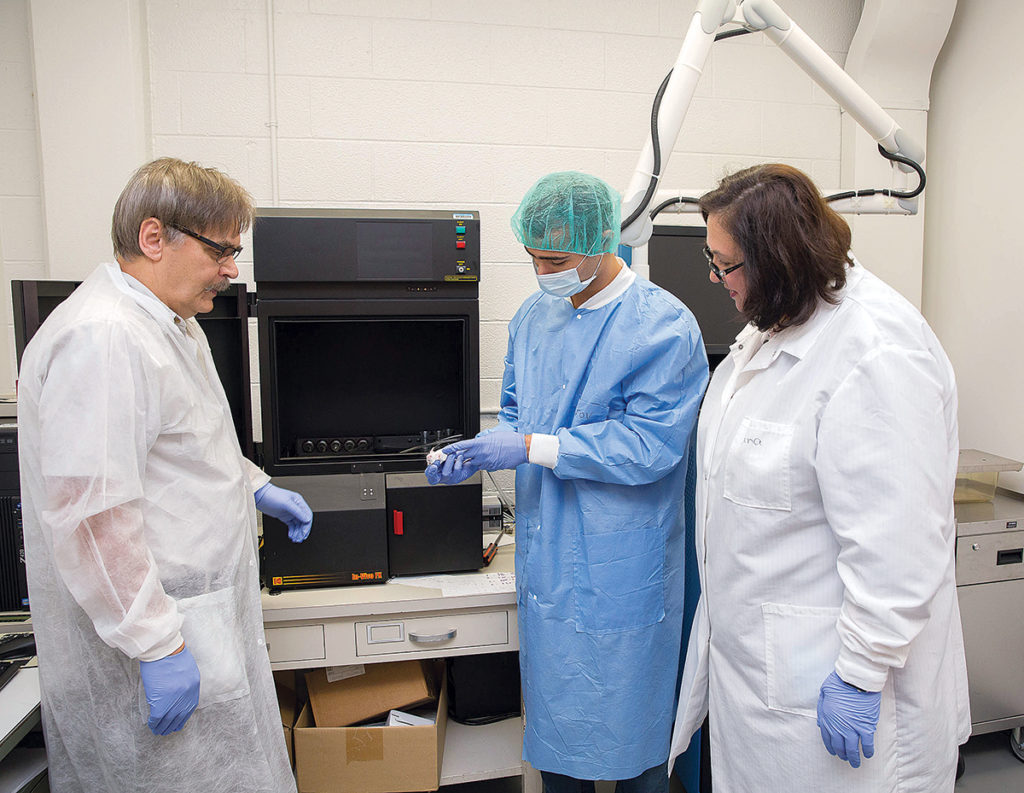 What the future holds
The push for more commercialization of research in Rhode Island is set against a shifting national landscape.
Federal grants account for most of the spending on university-based research, and their future is uncertain.
At URI, Katz said, about 90 percent of research grants are derived from two federal sources: The NIH and the NSF.
President Donald Trump, in his first budget proposal, has pledged to cut federal funding for scientific research in fiscal 2018.
His suggested cut to the NIH, for example, was 18 percent, to $25.9 billion. His budget also recommended reducing administrative costs that typically have been covered by grant awards. At URI, that's the rate charged for the use of the university's rooms, utilities and administrative support, and it is currently 53.5 percent of the grant amount, dispensed on top of the amount for the research purposes.
Whether and how Trump's budget request is received by Congress in the upcoming months will be closely followed by university and state officials.
These are cuts that would be difficult to absorb through state or local sources, according to Katz.
"It's tens of millions of dollars," he said.
Morgan, of Brown, said the ecosystem in Rhode Island needs to be nurtured. People tend to view the Boston tech and science-based economy as having always been so. Twenty-five years ago, it too needed to be nurtured.
"The Boston ecosystem is so well developed and so close that it makes us look at our ecosystem and say, 'Wow, we're really underdeveloped.' My sense is people are actively looking at this and trying to cultivate this ecosystem, but it's a team sport," he said.