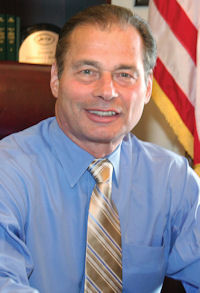 PROVIDENCE – The Senate on Thursday unanimously elected North Providence Democrat Dominick J. Ruggerio as its president, a day after Sen. M. Teresa Paiva Weed, D-Newport, resigned from the leadership post to take a job with a hospital association.
Sen. Michael J. McCaffrey was chosen to serve as the new Senate majority leader, a post previously held by Ruggerio since 2011.
Sen. Maryellen Goodwin, D-Providence, will continue serving as majority whip for the new leadership team.
"I have always been fortunate in the Senate to work alongside such a tremendously talented and dedicated group of public servants," said Ruggerio in a statement. "We come from many different backgrounds and all regions of the state … but our goal is fundamentally the same: We want to make Rhode Island an even greater place to live and work."
Ruggerio is the longest-serving member of the Senate. He supported legislation establishing the I-195 Redevelopment District Commission and economic-development initiatives, including removing bureaucratic hurdles facing small businesses.
McCaffrey, D-Warwick, is an attorney who has been active on issues that include elder abuse and strengthening sex-offender laws.
He also championed the Good Samaritan Overdose Act, which expanded legal protections for those who seek medical assistance for individuals experiencing a drug overdose, according to a Senate news release.
Paiva Weed served as Senate president for more than eight years, before resigning to become president of the Hospital Association of Rhode Island.