There are many reasons why Rhode Island is consistently such a popular culinary destination both for those who want to taste and experience, as well as the creators and visionaries who make the experience possible.
Take our local educational institutions, location, spirit of entrepreneurship, great natural resources and a melting pot of ethnicity, add in food traditions and a fairly stable population to maintain them.
If there is one factor that puts our state over the top foodwise, the case can be made for the number of independent restaurateurs who are successful here year after year, some award-winning. Now the nation's leading restaurant-industry advocacy organization has appointed one to a leadership position.
The National Restaurant Association recently named Brian Casey, president and owner of the Oak Hill Tavern and the Company Picnic Co. of North Kingstown, as its 2019 treasurer. Casey, one of Rhode Island's longtime leading food-service entrepreneurs, will become chairman of the association in 2021. This marks the first time that a Rhode Islander has been appointed to the organization's executive committee in its 100-year history.
The lifelong Rhode Island resident and Rhode Island College graduate has served as a two-term chairman of the Rhode Island Hospitality Association's board of directors in 2006 and 2007. In 2008, he was named RIHA's Caterer of the Year and in 2013 was RIHA's Restaurateur of the Year.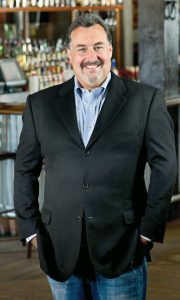 "We could not be prouder of Brian regarding his appointment to the [National Restaurant Association's] executive committee," said Dale J. Venturini, RIHA president and CEO. "To have a local restaurant owner, steadfast industry advocate and entrepreneur on the [association's governing board] is truly indicative of the excellence of the hospitality industry in Rhode Island. We may be the smallest state in the union, but thanks to the leadership of Brian and others like him, our voice is one of the strongest."
Casey's appointment comes at another crossroads moment for the restaurant scene in the state. Some signs of change are appearing, as the first hints of the upcoming season begin to show themselves.
At mid-March came the announcement that the well-known Shake Shack chain would be opening the doors to its first Rhode Island location, in Providence on Thayer Street in the epicenter of College Hill. Shake Shack's concept is known in the industry as "better burger," which means an emphasis on premium ingredients. Its burgers are sourced from well-known, nationwide purveyors of natural beef, additive-free chicken and, as its name suggests, milkshakes. Its success story is a recent one. The first Shake Shack opened in 2000 in Madison Square Park in New York City, next door to an international investment bank.
At about the same time, a local restaurateur was rolling out a restaurant concept that would appear to be similar. Graze Burgers recently opened its doors in Westerly. The reason for its location may be a key to its uniqueness. Graze's burgers – grass-fed and hormone-free – are sourced from a farm in nearby Stonington, Conn., that is owned by one of the restaurant's proprietors. According to a spokesperson, this enables stricter quality control and a single-source blend of all cuts of meat used to make the restaurant's signature menu item.
The fact that the main lobbying and advocacy organization for the United States restaurant industry will be benefiting by its future chairman's perspective and insights gained from decades in business in Rhode Island should make for interesting times on the national food-service scene. Brian Casey's tenure is likely to increase the already bright spotlight on our unique dining-destination state.
Bruce Newbury's Dining Out radio talk show is heard Saturdays at 11 a.m. on 1540 WADK-AM, through various mobile applications and via smart speaker. Email Bruce at Bruce@brucenewbury.com.