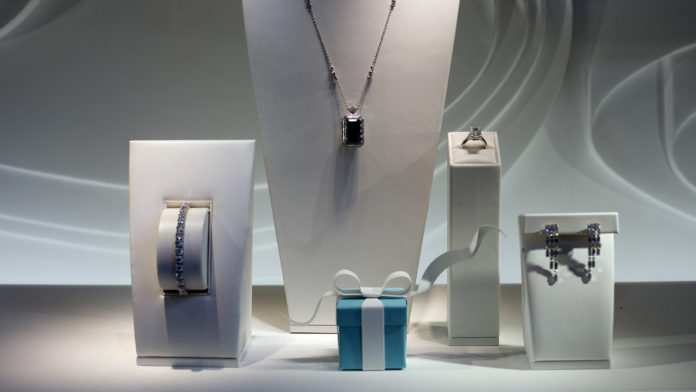 NEW YORK – Valentine's Day did little to help Tiffany & Co. stave off a broader retail slump.
The New York-based jeweler posted an unexpected sales decline in the first quarter, with sluggish demand in the Americas and Asia weighing on results. That sent shares down as much as 6.6 percent in early trading on Wednesday.
However, sales for the first quarter increased year over year 0.93 percent.
Tiffany & Co. and Subsidiaries also reported a $92.9 million profit in the quarter, an increase of 6.17 percent year over year.
The surprise drop in sales signals that Tiffany faces a slow recovery from a tourism slump and shrinking foot traffic in the U.S. To boost sales and draw younger customers, the company has been renovating stores and introducing new designs, such as the HardWear collection promoted by singer Lady Gaga.
Tiffany blamed slow results in the Americas region on "lower spending by both foreign tourists and local customers."
The shares declined as low as $87.02 in early trading after the results were posted. Tiffany had climbed 20 percent this year through Tuesday's close.
Valentine's Day typically brings a surge of shopping to the jeweler, but it wasn't enough to salvage results in the latest quarter. Same-store sales – a key measure – fell 2 percent in the period. Analysts had projected a gain of 1.7 percent on average, according to Consensus Metrix.
Already, the company is coping with management turnover. The board abruptly ousted Chief Executive Officer Frederic Cumenal in February and put Chairman Michael Kowalski in that role on an interim basis.
Even with the sales stumble, Tiffany topped earnings estimates, helped by higher operating margins. The company reported a profit of 74 cents, compared with a 70-cent projection.
Net sales amounted to $899.6 million in the period, which ended April 30. That missed the $914.4 million predicted by analysts.
The company maintained its forecast for the year, calling for sales to grow by a low single-digit percentage. Earnings are expected to climb by a mid-single-digit percentage over last year's $3.75 a share, excluding some items.
Stephanie Wong is reporter for Bloomberg News.