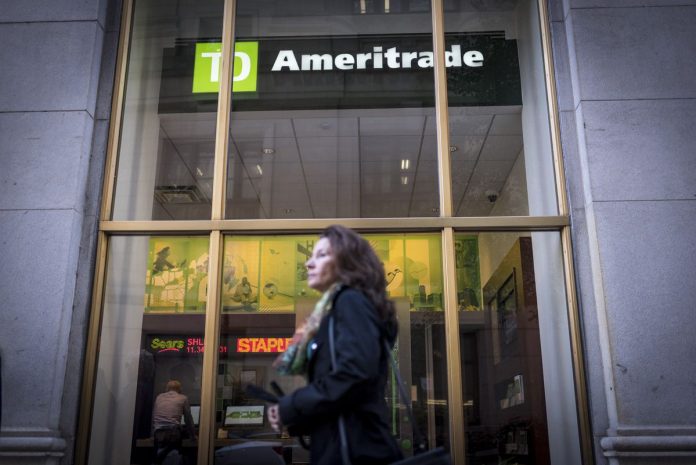 NEW YORK – Toronto-Dominion Bank posted a record quarter in the United States, thanks to Americans who took out more loans and turned to the discount broker services of a bulked-up TD Ameritrade.
The Canadian lender reaped $174 million (C$225 million) from its investment in the U.S. brokerage, which along with tax cuts and loan growth helped drive record profit of $881.6 million at its U.S. retail division, the Toronto-based bank said Thursday as it posted earnings that topped analysts' estimates.
"The U.S. retail segment generally has enjoyed very strong organic growth, both on the asset-gathering side as well as trading side for TD Ameritrade, and we've had very good deposit and loan volume growth in the U.S. retail bank," Chief Financial Officer Riaz Ahmed said in a phone interview. "The macro environment has also been very good with interest rate increases and the benefits of U.S. tax reform."
About 20 percent of Toronto-Dominion's U.S. retail earnings in the three months ended July 31 came from its 41 percent stake in the Omaha, Nebraska-based firm. TD Ameritrade's contribution was the most since the Canadian lender sold its own U.S. brokerage operation 12 years ago, getting part of the combined company. TD Ameritrade Holding Corp. posted record quarterly earnings in July, fueled by sooner-than-expected cost benefits from its September 2017 purchase of Scottrade Financial Services.
Toronto-Dominion's U.S. division also includes TD Bank, which has 1,246 branches in a network that stretches from Maine to Florida.
Toronto-Dominion's net income rose 12 percent to a record $2.4 billion, or $1.28 a share, from $2.14 billion, or $1.13, a year earlier, the bank said in a statement.
"U.S. platform remains solid," Canaccord Genuity analyst Scott Chan said in a note. "Canadian retail performance has tracked peers thus far, the U.S. retail platform remains solid while capital markets was weak due to lower trading-related revenue."
Here's a summary of TD's results:
Revenue rose 6.5 percent to $7.65 billion and non-interest expenses climbed 5.4 percent to $3.96 billion
The bank set aside $433.8 million for soured loans, up from C$390.5 million a year earlier. Canadian retail earnings, which includes wealth management, were $1.43 billion, up 7.4 percent from a year earlier
U.S. retail earnings rose 27 percent to $881,600
Wholesale banking profit fell 24 percent to $172.5 million as trading revenue plunged 41 percent to $212.7 million from a year earlier, pulled down by fixed-income trading
The bank said it changed its trading strategy on some debt securities, reclassifying them at the start of August as part of an accounting change
Doug Alexander is a reporter for Bloomberg News.