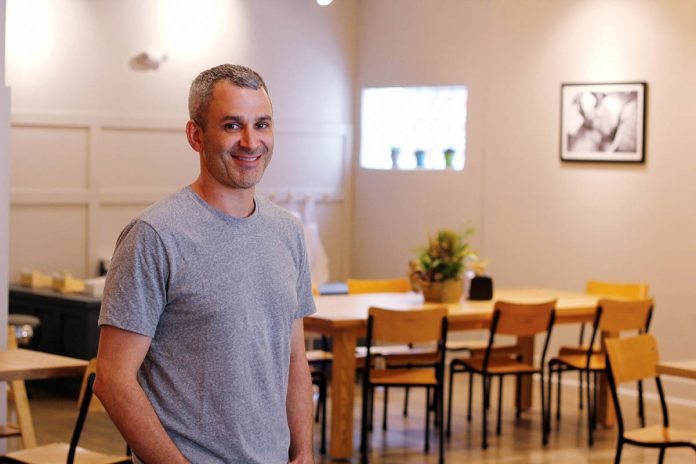 Rhode Island got its first taste of Knead Doughnuts last year, and co-owner Adam Lastrina says that ever since, it's been wanting more.
And Knead responded. In April, it opened its second location, a 3,000-square-foot space in the heart of Providence's East Side, just a few blocks from Wayland Square.
Whereas the downtown location is often dotted with college students tucked in corners with their laptops and businessmen and women meeting over coffee, the East Side location regularly attracts families.
Moms push strollers through the new storefront's double doors. At a play area in the back, children donning tiny white aprons pretend to whip up their own treats. For the kids' area, the owners even cut down stools they found in the basement of the building. At a community table in the middle, parents can sip coffee roasted by Bolt.
The owners of Knead hope that the new location, with parking out front and all along Elmwood Avenue, will be more accessible than its downtown location. That space, at 32 Custom House, offers parking on Saturdays and Sundays only.
The new space also features a wall-size mural by local artist Rebecca Volynsky, and photographs of Knead's baking process taken by Paul Robert Berman.
In its business plan, the company aimed to open four locations in five years. The first opened in December 2016. A second opening a little over a year later puts it ahead of schedule.
"Aggressive growth was our hope," said Adam Lastrina, a co-owner of Knead with Bryan Gibb and Todd Mackey.
The three met when Lastrina was working at Seven Stars Bakery, and Mackey and Gibb at New Harvest Coffee Roasters. Traveling around the country for their work, Mackey and Gibb noted the doughnut-store trend percolating on the West Coast, starting with iconic spots such as Voodoo Donuts in Portland, Ore. A "big little city" such as Providence seemed like the perfect market to support a specialty doughnut shop, Lastrina said.
"The three primary owners made a lot of sacrifices the first year," he added. "To be successful, you've got to put money back into the ­business."
In 2017, the company sold about 2,500 doughnuts a day on the weekend. Knead also has grown by expanding its wholesale business, which makes up about 30 percent of sales. But as the company invests more into its second location, it expects it will scale that back closer to 20 percent.
Baking operations remain centralized in the downtown location, where Knead has added four new staff members to keep up with the demand. That keeps overhead cheap, and reduces the expenses of building another kitchen, Lastrina noted. Throughout its expansion, Knead has continued its commitment to community outreach. It provides about 500 doughnut holes per week to different charities and fundraisers, on top of various gift cards.
Additionally, Knead also works with food-recovery organizations to donate unsold doughnuts to local shelters and churches.
The company also wants to be a good place to work.
"We're concentrating on … quality, consistency and being a good place to work, so you don't have to deal with turnover," Lastrina said.
OWNERS: Bryan Gibb, Adam Lastrina, Todd Mackey
TYPE OF BUSINESS: Doughnut and coffee shop
LOCATIONS: 135 Elmgrove Ave.;32 Custom House, Providence
EMPLOYEES: 36
YEAR ESTABLISHED: 2016
ANNUAL SALES: $1.1 million