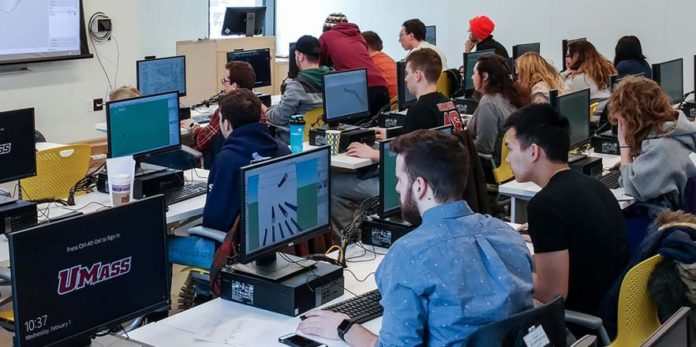 BOSTON – The University of Massachusetts has announced the formation of a Cybersecurity Education and Training Consortium, a joint initiative in collaboration with the Advanced Cyber Security Center of Boston to unite the state's private and academic sectors in preventing and combating cybersecurity threats.
The school issued the announcement on Sept. 14 as leading cybersecurity experts gathered for the two-day World Cyber Summit, a Massachusetts-based event focused on cybersecurity and its implications for business and society.
"UMass is proud to take a leadership role in addressing workforce needs in sectors critical to the Commonwealth," said UMass President Marty Meehan in a statement. "This consortium will advance our cybersecurity education and workforce-development initiatives, better preparing the thousands of UMass students and their counterparts across the Commonwealth who are currently enrolled in cybersecurity-related courses to contribute to this important and rapidly evolving field upon graduation."
The Cybersecurity Education and Training Consortium was first envisioned during Gov. Charlie Baker's 2016 economic-development mission to Israel, where more than 20 industry and university leaders – including Meehan – explored ways to collaborate to advance the state's role in areas such as cybersecurity.
Led by the UMass President's Office, the CETC will help connect leaders in business and higher education to promote academic programming in cybersecurity that aligns with the needs of Massachusetts employers, inviting participation from all of the state's public and private institutions of higher learning.
In addition to providing a framework for collaboration between business and academia, the CETC will identify statewide opportunities for partnerships, best practice exchange and joint funding in the area of cybersecurity.
To achieve those goals, UMass has partnered with the Advanced Cyber Security Center, a nonprofit collaborative working to harness the collective resources of its member organizations in Massachusetts private industry, academia and government to strengthen the state's cyber readiness and bolster cybersecurity initiatives.
As a federally registered Information Sharing and Analysis Organization, the Center serves as a hub for the security community in Massachusetts and New England. Its member organizations include private corporations such as Facebook, Blue Cross Blue Shield of Massachusetts, Liberty Mutual Group and MITRE Corp.; universities such as Harvard University, UMass, the Massachusetts Institute of Technology and the Worcester Polytechnic Institute; and government organizations such as the Federal Reserve Bank of Boston and the Commonwealth of Massachusetts.
"The CETC brings together the best of our regional academic community with our most proactive businesses to define real solutions for overcoming the cybersecurity workforce-development and retention challenges," said Michael Figueroa, executive director of the Advanced Cyber Security Center. "We are looking forward to leveraging our network of local security leaders to help make security careers more attractive and accessible here in Massachusetts."
Additional founding members of the CETC include members of Baker's Workforce Skills Cabinet, including Secretary of Housing and Economic Development Jay Ash, Secretary of Labor and Workforce Development Rosalin Acosta and Secretary of Education Jim Peyser.
For more information about the CETC and other cybersecurity initiatives at UMass, visit www.massachusetts.edu.
Galen Auer is a PBN contributing writer. Email galen.auer@gmail.com or follow on Twitter at @PBNAuer.