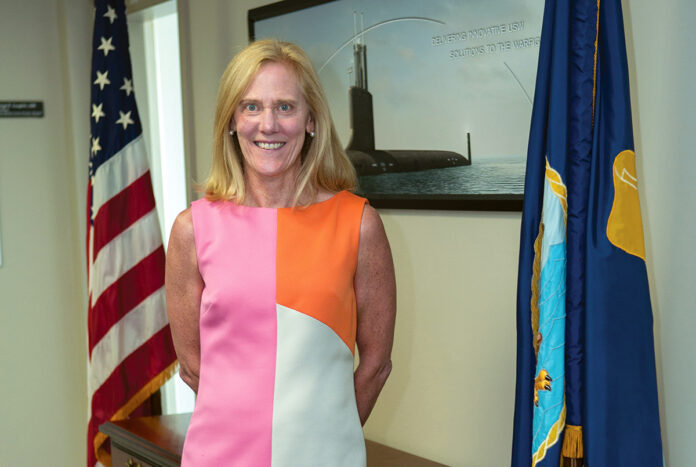 25 Over Fifty-Five 2019 Award Winner
VICKI COMEAU | Head of corporate operations, Naval Undersea Warfare Center Division Newport
---
VICKI COMEAU'S ULTIMATE MISSION at the Naval Undersea Warfare Center Division Newport is decidedly military: Provide support for the research and development of technologies that will give the United States fleet tactical superiority.
But, in some ways, her job has a private-sector feel to it.
NUWC employs 3,300 civilian employees and thousands more contractors. But its $1.1 billion operating budget isn't funded by a line item in the federal budget. Instead, the center "bills" its clients – 95% of which are military – for its services.
"We're a business. I have to make sure I manage within a budget and have the right people because I only have so much money to do this one task," Comeau said. "How do I do this in the most efficient, effective way to get this product done and get it out to the fleet?"
As head of the corporate operations department – which alone has 252 employees – Comeau ensures NUWC scientists and engineers have what they need. She also oversees hiring, training, facilities maintenance, safety, security, public affairs, information technology and more.
"I love my job. It's a challenge every day," she said.
Her department organizes NUWC's presence at tech conferences to keep up with developments in private industry and recruit talented employees. As an engineer with 22 years at NUWC, she knows what to look for.
Division Newport Cmdr. Capt. Michael Coughlin gives high praise, saying Comeau has displayed "dedication, creativity and an unrelenting drive to keep the U.S. undersea warfare community at the forefront of technological development."
That drive continues away from work, as well.
Frequent gym workouts help "to ensure my mind is clear and my stress relieved," she said. And while her children, ages 21, 19 and 16, are older, she still shares her technical expertise as a judge at school science fairs.

Want to share this story? Click Here to purchase a link that allows anyone to read it on any device whether or not they are a subscriber.