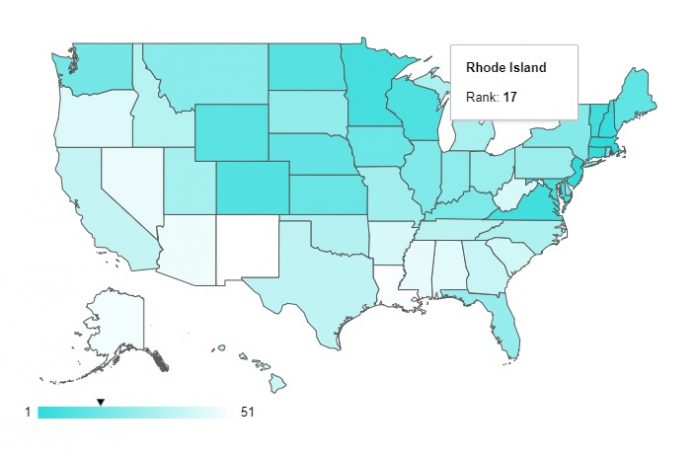 PROVIDENCE – Rhode Island school systems ranked No. 17 out of 50 states and the District of Columbia for 2018, according to WalletHub's 2018's States with the Best & Worst School Systems report Monday.
WalletHub used 25 metrics, categorized under quality and safety and ranked on a 100-point scale, with 100 representing the highest quality of K-12 public education, to build the rankings. The Ocean State, which received an overall score of 54.8, was rated No. 19 for quality and No. 14 for safety.
Rhode Island quality rankings:
• Rhode Island ranked No. 6 for the number of public schools in U.S. News & World Report's "Top 700 Best U.S. schools," with 28.6 percent of municipalities ranking on the list in 2018.
• For the dropout rate (percentage of students who did not graduate), Rhode Island ranked No. 31, with 17.2 percent of students dropping out.
• The state ranked No. 34 for math test scores and No. 23 for reading test scores, both of which were measured for students in grades four through eight. Among high school students, Rhode Island averaged 486.7 on the SAT to rank No. 38 and 23 on the ACT to rank No. 5.
Rhode Island safety rankings:
• Rhode Island ranked No. 8 for number of school shootings between 1990 and May 30, 2018, with one shooting.
• For its share of armed high school students, Rhode Island ranked No. 23, with 5.1 percent of students reportedly carrying a weapon on school property this year.
• The state was rated No. 38 for youth incarceration rate with 200 students, which was measured per 100,000 students aged 20 and younger. For the disciplinary incidence rate, which measures the rate of alcohol, illicit drug, violence and weapon possession per 100,000 students, Rhode Island ranked second-to-last at No. 50, with 8,956.8 incidents occurring in 2018.
Massachusetts ranked as having the best school systems in the country for 2018. Its quality and safety ratings both ranked No. 1, while its overall score totaled 74.2, approximately seven points ahead of the No. 2 school system, New Jersey at 67.1. New Mexico ranked last with an overall score of 31.5.
Haley Hunt is a PBN contributing writer.