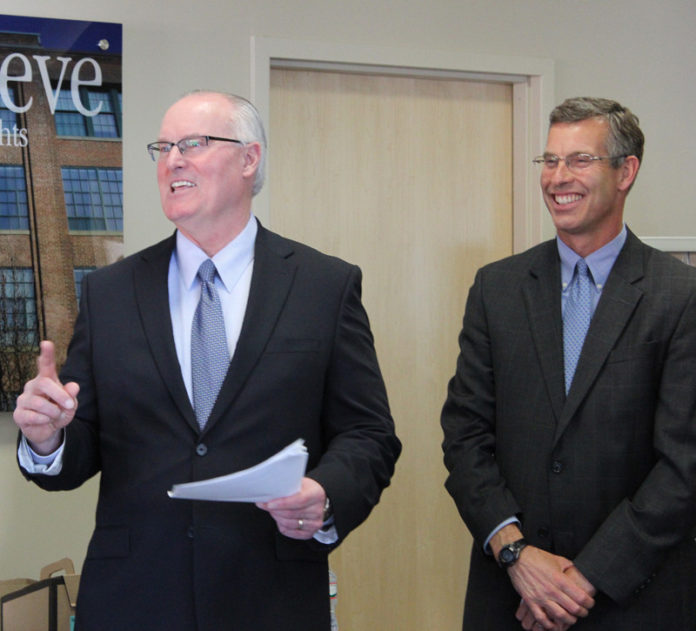 WESTERLY – There's a changing of the guard planned this winter for Washington Trust Bancorp Inc., as long-time Chairman and CEO Joseph J. MarcAurele and Chief Financial Officer David V. Devault have announced plans to retire.
Edward O. "Ned" Handy III, who currently serves as president and chief operating officer, will succeed MarcAurele as chairman and CEO of the Westerly-based financial institution.
"Joe's strategic vision enabled Washington Trust to successfully expand our market presence and earn recognition as one of the nation's most high-performing banks," said Victor J. Orsinger II, lead director of Washington Trust's board of directors. "David has been an integral part of Washington Trust's success during his career, providing astute financial insight and guidance with the utmost integrity."
Devault will retire on Jan. 31, MarcAurele will follow on March 2.
"Washington Trust is a one-of-a-kind institution, and I am truly honored to have led our 217-plus year-old company during a period of tremendous growth and probability," MarcAurele said.
Mark K. W. Gim, currently the senior executive vice president of wealth management and chief strategy officer, will take over as president and COO. Ronald S. Ohsberg, who now serves as senior executive vice president and treasurer, will succeed Devault.
"It has been an honor to have served Washington Trust for almost 31 years. Throughout my career, I have been fortunate to work with an outstanding group of banking professionals, and I am extremely proud of what we have accomplished together," said Devault
MarcAurele and Devault will leave the bank after an impressive stint of year-over-year profit growth, which started when MarcAurele took over as CEO in 2010.
A former educator and athletic director, MarcAurele entered banking in his 30s, when he started his career with Fleet National Bank, and made his way to the top position at the second-largest state-based bank in Rhode Island.
He recently led the bank to exceed $4 billion assets for the first time in company history.
The succession planning has been developing for years.
Handy, previously the Citizens Bank president for Rhode Island and Connecticut, joined Washington Trust in 2013 as its president and COO. He moved into the same position MarcAurele took before he succeeded John C. Warren as the bank's top executive. MarcAurele himself had been the head of Citizens' Connecticut and Rhode Island operations before moving to Washington Trust.
Since coming aboard, Handy has helped the financial institution grow its share of market deposits, expand lending throughout the region and acquire a new wealth management firm that's been key to bolstering that line of business.
Handy told Providence Business News his plan is largely to try and continue to deliver the results that have become common under the leadership of MarcAurele and Devault.
"I'm taking over from a mentor and a friend in Joe," Handy said. "David has been running a tight ship here for 30-plus year and the company owes him a great debt of gratitude."
The new leadership team has the full confidence of MarcAurele and Devault.
"I have worked closely with Ned for many years and am confident that he, Mark and Ron will uphold our company's core values and lead Washington Trust to continued success in the years to come," he said.
Eli Sherman is a PBN staff writer. Email him at Sherman@PBN.com, or follow him on Twitter @Eli_Sherman.