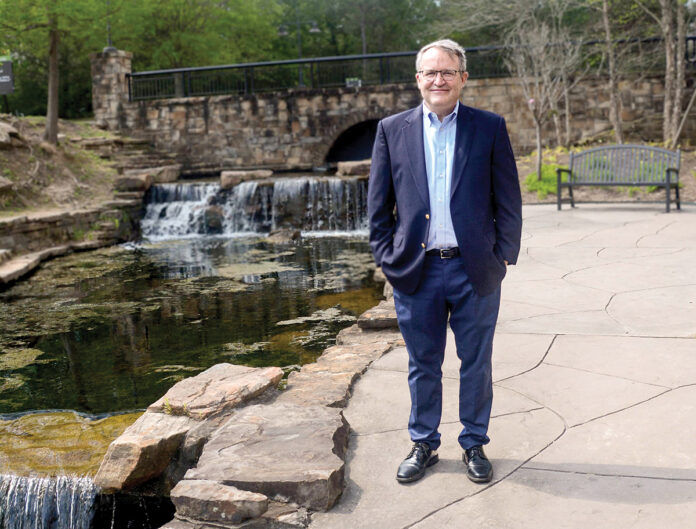 2022 C-Suite Awards: Enterprise company | William Wray, The Washington Trust Co. chief risk office
---
If there was ever an example of the need for risk management, the COVID-19 pandemic certainly fits the bill.
Thanks to some strategic thinking on the part of William Wray, chief risk officer for The Washington Trust Co. in Westerly, the bank was poised to take it on.
"When the pandemic hit and we realized we had to shift to almost entirely remote operations, we were thankful that in the last several years we had made significant investments in our technology infrastructure," Wray said. "This gave us the capability and capacity to support remote work in a reliable, secure, consistent fashion."
With those pieces in place, Wray said the bank took on the new challenges and opportunities, most notably the origination of more than $300 million of Paycheck Protection Program loans.
"These Small Business Administration loans went to almost 2,000 companies, and in many cases literally saved them from having to fire employees," he said. "We chose to accept PPP applications from noncustomers, which many banks did not, because we felt we could manage the risk, largely fraud, effectively. As a result, we added many new customers who have stayed with us."
Wray's team was a big part of helping commercial and consumer borrowers to defer payments and gain relief through the economic downturn caused by the pandemic.
"We stayed in touch with these borrowers to work through their challenges," Wray said. "At its peak, we had more than $700 million in deferments, just under 20% of our loan portfolio. We are proud that every single one of these borrowers was brought back to their normal payment arrangements without a single loss."
Addressing these challenges and thriving is a source of pride for Wray.
"Probably the key metric that I am part of contributing to the company is our credit risk status," he said. "[It's] the most common reason why banks fail, so it is a critical survival skill. I am proud that our credit risk is viewed as among the best in the entire industry … achieved through a team effort, with the credit risk team aligned with the front-line lenders. We are ­fortunate to have super people across the spectrum who work well together."
With a background in civil engineering and time spent as a U.S. Army engineer, Wray considers himself a natural-born problem-solver. He joined Washington Trust in 2015 after six years at Blue Cross & Blue Shield of Rhode Island as its chief operating officer and 15 years at Citizens Bank N.A., where he was chief information officer.
Treating risk management as a positive strategy is why many of Wray's co-workers use the word "pragmatic" to describe him. But he's more than that.
"I am a passionate reader of virtually everything … Jane Austen is my ideal writer," he said. "I am a semi-professional musician. I get to call myself a 'professional' because I get paid for gigs on occasion, but I am only a 'semi-professional' because I spend a lot more on equipment than I earn."
According to bank Chairman and CEO Edward O. "Ned" Handy III, Wray has an ability to make complex problems and solutions understandable, with a polished wit and natural tendency to entertain.
"One keeps broader groups involved and focused, the other promotes calm and engagement," Handy said. "His musical skills keep his creative mind firing and bring appreciative groups together around the holidays. Bill often goes out of his way to help build positive spirit within the company."
Active in the Rhode Island community, Wray chairs the HealthSource RI Advisory Board, is a trustee of the Providence Performing Arts Center, and a board member at the Rhode Island Public Expenditure Council and Business Development Co. of Rhode Island. He is also a member of the finance council for the Roman Catholic Diocese of Providence and was formerly a longtime board member at Amos House and Year Up Providence.
"To me, all these organizations are a natural extension of my day job … a critical part of my role as a leader within the company," he said. "We can only succeed if Rhode Island ­succeeds."

Want to share this story? Click Here to purchase a link that allows anyone to read it on any device whether or not they are a subscriber.