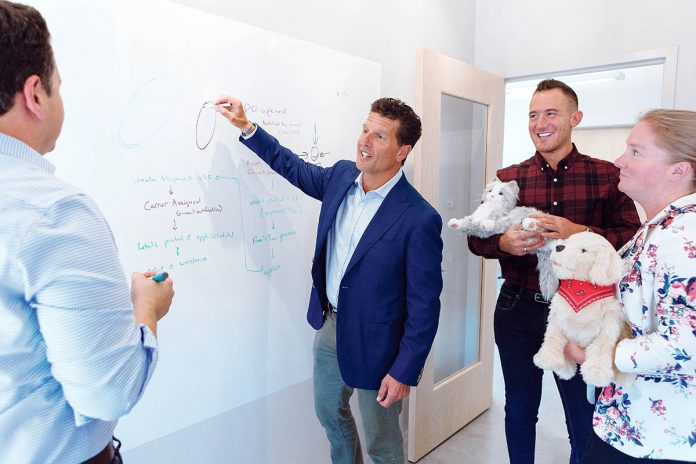 Innovative Companies | Innovative Collaboration
---
Children aren't the only ones who can benefit from being engaged with toys and products, according to Pawtucket-based Ageless Innovation LLC.
The company, spun out of Hasbro Inc. in 2018, realized a need for a brand focusing on the 50-plus market to develop fun and engaging products for older adults.
"The company is uniquely focused on the health and wellness space recognizing the positive impact and meaningful connections that can be fostered through play," said Meghan Gamboa, senior vice president of marketing.
Pets can provide comfort to older adults but they're not always able to care for live creatures. Ageless Innovation has created a toy to provide the experience of having a pet without having to worry about the litter box or walks.
"Developed with extensive input from older adults, Joy for All Companion Pets look, sound and feel like real pets," said Gamboa. "A critical insight that influenced the unique design of these pets was that older adults wanted interactive, two-way companionship, and pets that could give love and receive it."
Joy for All Companion Pets introduced its cat in 2015, which has sounds and movements mimicking the real thing. Its cat features VibraPurr technology, which allows the cat's purr to be seen and felt with a gentle touch or even while sitting on a person's lap.
That was followed in the next year by the Companion Pet Pup, which responds to the owner's voice with head movements and acts like a puppy.
"We are committed to filling the void in the older-adult marketplace for products that promote happiness, companionship and well-being," said Gamboa.
Ageless Innovation says it experienced triple-digit percentage revenue growth from 2017 (while still a part of Hasbro) to the comparable 2018 period, and has expanded globally, selling products in Canada, Europe, the United Kingdom and Australia.