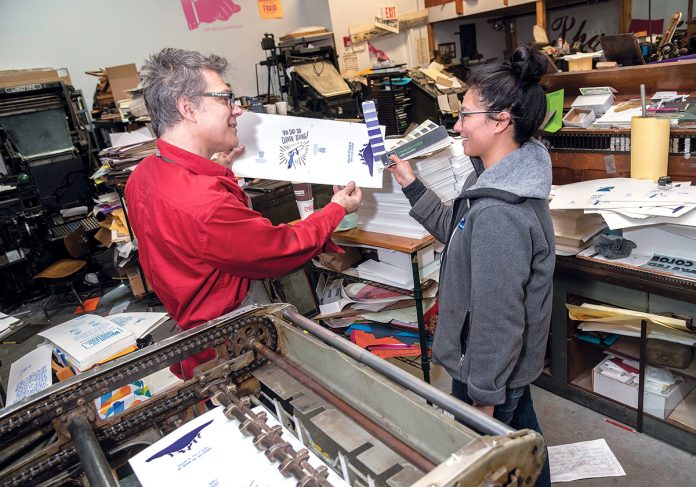 For Dan Wood, owner of Dan Wood Rhode Island letter­press print shop, "anytime the linotype runs, that's an achievement."
The 1994 Rhode Island School of Design graduate counts himself lucky to employ four people, including one part time, in a letterpress printing shop in 2018. He said he is proud to keep alive an art form that dates back centuries to the machinery designed by Johannes Gutenberg.
Describing the beauty in the letterpress process, Wood said an "attention to detail and care is what makes [each print] so appealing."
After working at multiple local print shops – including one at Johnson & Wales University – Wood launched DWRI in 2003 after the birth of daughter Roma.
The business has done well in those 15 years, said Wood, and includes the production of invitations, announcements, greeting cards, artist productions and "fancier commercial stationery" such as business cards.
DWRI provides foil-stamping, die cutting and wholesale greeting-card lines for other print shops, but Wood estimated "the vast majority" of his business is commission-based, custom work, with 5 percent the result of sales through the DWRI online retail shop.
He believes there has been a resurgence in the letterpress industry because of its long history. As an owner of two linotype machines, Wood said: "Part of the reason people are coming to us is because of these somewhat ancient machines."
Linotype machines, he explained, "are how all newspapers would have been printed up until the 1970s" and relied on movable type for each print.
An artist first, Wood said his biggest challenge has been a "shift in mindset … accepting the fact that people want to pay you for your skill" paired with learning to "[price] things appropriately."
Calling letterpress prints "a higher-end purchase … a statement," he explained prices vary from project to project. A set of 100 invitations with envelopes can run anywhere from $5 to $7 each, whereas a run of 5,000 announcements carries a "minimal" price – "80 cents [roughly] … because of the higher volume."
Sales are made directly to clients who commission DWRI, but also through the almost 2-year-old retail shop on DWRILetterpress.net. Shoppers will find DWRI lapel pins, calendars, journals and the "Racism-Misogyny-Fraud" posters seen in many downtown Providence shop windows.
Characterizing the marketing of and inventory available on the online shop as "derelict," Wood said he hopes to have the site redesigned and relaunched by September or October.
A recent graduate from the Goldman Sachs 10,000 Small Businesses program, he said it had a resounding impact on how he will run the business moving forward.
At the beginning, he said: "I didn't know what a balance sheet was." The biggest thing he learned from the experience was to "give myself the time to be working on the business, as well as running around trying to chase deadlines in the business," he added.
Even as he improves his business acumen, Wood won't completely give up his artistic passions. He teaches a printmaking course – introduction to letterpress – at RISD each semester.
OWNER: Dan Wood
TYPE OF BUSINESS: Letterpress printing company
LOCATION: 40 Rice St., Providence
EMPLOYEES: Three (full time)
YEAR ESTABLISHED: 2003
ANNUAL SALES: $258,000 in 2017