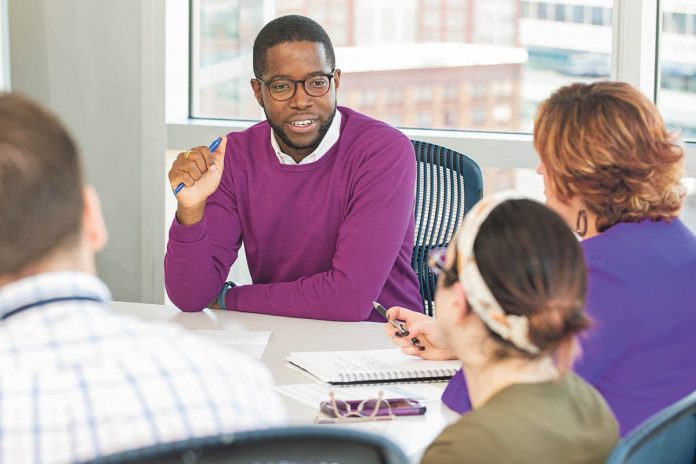 HEALTH CARE Blue Cross & Blue Shield of Rhode Island
With Kim Keck, its first female president and CEO, chosen to lead two years ago, Blue Cross & Blue Shield of Rhode Island has that strong piece of company history behind its commitment to diversity. With one of its priorities being accountability, the health insurer also has myriad statistics from quarterly diversity and inclusion reports, further indicating its success in this area.
Seventy percent of the 800 employees at the nearly 80-year-old nonprofit are women. Women make up just over 50 percent of its management team. People of color are at 17.4 percent of the workforce, up from 14 percent in 2012; making up 8 percent of individuals in management – double the number from four years ago, according to the company.
And Blue Cross' diversity model is getting attention, according to Bobby Rodriquez, vice president and chief people officer.
"Many companies, including in Worcester, the Providence area, Boston … they see what we do here and how we moved the needle in the state," he said. He added the company is open to sharing its approach with other firms.
The approach involves a 25-member Diversity Council.
One year, the diversity council prepared 50 presentations for various company departments. It hosts a film series, screening movies that promote inclusion, such as the "Joy Luck Club." Its members provide guidance and feedback on programs to the Learning and Inclusion Department at the company.
Other company efforts include Diversity Week observances, including speakers; consistent, required education efforts for employees and managers; and Employee Business Resource Groups.
The resource groups, which are fully supported by leadership, include: Emerging Blue Talent, Latin@Link, Blue pRIde, Military Services and Parents@ Work. A new group for African-American employees is in the planning stage.
"There have been surveys that show that people engaged in EBRGs are more engaged at work," said Blue Cross Lead Diversity and Inclusion Consultant Guillaume Bagal. "It's good for employees to work on issues important to them."
The military group, for example, ensures that Blue Cross uses military portals when recruiting for roles within the company, supporting service members before, during and after deployment. The group for emerging talent focuses on younger employees who hold promise of advancement in the company, promoting engagement.
Its Latino program works to support and advance the community, with internship partnerships with local colleges, for example. It also just worked with Blue Cross on its new Spanish website. Blue pRIde represents creating a safe space for LGBTQ community members and supporting their allies. The working-parents group offers support, solutions and resources.
"We want the most positive performance from everyone working here," said Sarah O'Neil, director of learning and inclusion, for the insurer. "And that may not look the same for every person. But if we put in the structures? People can come here and be unleashed," meeting or exceeding personal expectations."
Supporting diverse work teams is one way the company promotes inclusion. But it is also making strides in diversifying its vendors.
Adding more companies owned or managed by underrepresented groups is a priority. Six percent of Blue Cross' total enterprise expenditure is with groups in this category so far this year, twice what it was in 2013. The company goal is to double that 6 percent total in the next few years.
Diversity also involves banding with the larger community.
WOMEN Unlimited and The Partnership, leadership-development programs for women and people of color, respectively, work with the insurer. The company is also a site for Project Search, which helps young people with disabilities develop work skills.
Blue Cross supports other outside organizations, such as the Trans Healthcare Conference and NAACP. It continues to explore outside alliances and measure success.
"We all hold everyone accountable" in diversity programming, said Bagal. "It's not just something that sits in an office. It's embedded in our culture. It's all about improving lives of people working here."