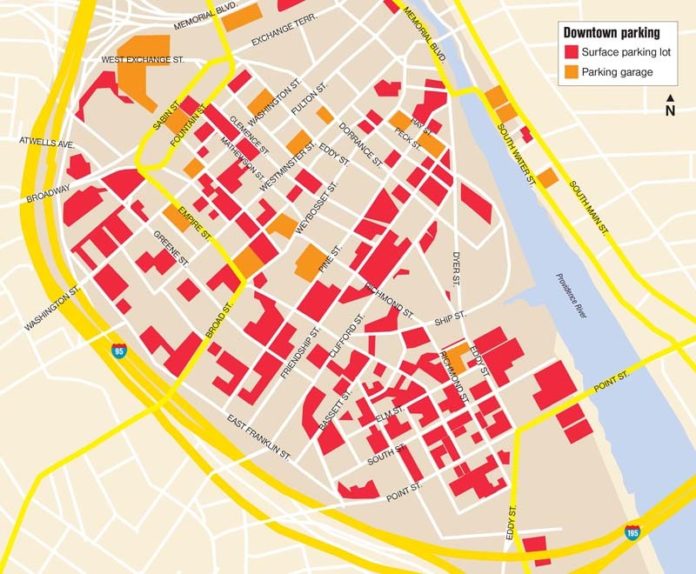 The façade of the former Providence National Bank building was supposed to have been incorporated into a new high rise, a luxury condominium tower for downtown Providence that never materialized after the economy soured.
It now fronts a busy parking lot, a symbol of a congested, yet underdeveloped cityscape that Providence is trying to leave behind.
A new city zoning ordinance codifies what downtown planners have known for years: Though the city has a reputation for limited parking, especially downtown, what it really needs is more buildings on some of the 70 acres of surface lots covering 14 percent of the downtown land. The area is defined by the city broadly to include the Financial District, Jewelry District, land around the Statehouse and portions of the base of College Hill.
That's a lot of land that could be used, and taxed, as more valuable development, according to planners.
"In the downtown, we want it to be a vibrant, pedestrian-oriented urban environment," said Robert Azar, the city's deputy director of planning. "From our perspective, surface lots are contrary to that."
Yet for those who use and operate them, the lots are thriving, often affordable examples of supply meeting demand.
"They're not understanding the economics," one prominent parking-lot owner, former Providence Mayor Joseph R. Paolino Jr., said of the new zoning code that discourages surface lots. "It's flawed policy."
If parking becomes too expensive, he says, businesses will relocate to suburban communities, where it is plentiful and free.
"A secretary, a downtown worker, can't afford more than $150 a month," he said.
NEW ZONING
Providence's newly updated zoning code includes efforts to discourage surface lots while encouraging shared, structured parking, pedestrian approaches and public transit. The code, which took effect in December, is the first comprehensive update of the city's zoning in more than 60 years.
As a result, for the first time, the city has eliminated parking requirements for new construction downtown, said Azar. The move is in line with actions taken by other U.S. cities trying to emphasize walkability and public transit in their downtowns.
That doesn't mean developers won't want to build parking, or won't be able to, but they no longer will be required to do it.
"We've removed any requirement that development provide off-street parking," Azar said of the new standards. "What that does is it gives developers a lot of flexibility in how much they want to provide, if at all."
Standalone parking lots – those not attached to a building for use by tenants – are no longer allowed to be built. And the city will allow existing buildings with parking deficiencies to have grandfathered status, as a way to encourage redevelopment without requiring more parking.
It is all part of an effort to redirect the way people get into and move around the city, according to Providence Mayor Jorge O. Elorza, who said "too many people are driving downtown.
"I support the zoning ordinance in the sense that it's about time we started planning and zoning around people and not cars," he said.
But that being said, he noted, whenever he has a conversation with a company about locating in Providence, the expense and availability of parking is raised as a concern.
Those same concerns were among the reasons why Ron Markoff, a Providence real estate attorney, moved his practice from downtown to the Wayland Square area of the city, where he now has "my own parking lot." When his business was on South Main Street, clients would ask for parking validation, and generally told him the location was inconvenient.
"People didn't want to come downtown because of the parking," he said.
Providence has mass-transit options, including trains and buses, but needs to do a better job circulating people within the city, Elorza says.
Transportation planners describe an almost simple "cause and effect" scenario. The presence of downtown parking encourages people to drive and discourages the use of alternatives, such as walking or bicycling or using mass transit. Cities that want to discourage driving, and promote density, need to reduce parking.
"Until you get to that breakeven point, you have to subsidize the transportation system," said Peter Flinker, a principal of Dodson & Flinker in Ashfield, Mass., a planning and landscape design firm.
BENEATH THE SURFACE
In terms of the land parking areas occupy, Providence with its 14 percent share is similar to some other small cities, such as Hartford and New Haven, Conn., according to Jason Schrieber, a principal of Nelson Nygaard, a San Francisco-based consulting firm that has advised the I-195 Redevelopment District Commission on parking.
Hartford has 18 percent of its downtown covered by parking lots, while New Haven has 16 percent.
By comparison, Cambridge, Mass., has 3 percent of its land area covered by lots, he said.
In several cities, he said – including New Haven; Boulder, Colo.; and Ann Arbor, Mich. – a public entity negotiates and subleases existing garage spaces for new development, which provides a guarantee for companies that they won't have to find parking themselves.
"The key to making parking work in any downtown is sharing it," he said.
Seventy acres of surface parking in a downtown doesn't indicate a parking availability problem, said Edward McMahon, a senior fellow at the Urban Land Institute, a planning organization based in Washington, D.C.
"Your problem is a lack of buildings," he said. "You need to build something."
The irony of dense, congested cities, he said, is they are often described as being the most vibrant. "People want to be there. If you have a parking problem, it means you are successful. Excess parking is a sign of decline."
Over time, however, they become the city's opportunity for growth, he added.
From the perspective of Providence planners, the issue is not one of supply and demand for parking, but of aesthetics and use of land, according to Azar.
Surface lots create holes in the vista of a downtown street. Ideally, he said, the building landscape would be uninterrupted, with ground-level retail or commercial spaces, visible through windows to pedestrians.
As an example, most of Westminster Street downtown is a seamless canvas of buildings, he said. By comparison, on Friendship or Clifford streets in the Jewelry District, more parking lots front the streets than buildings.
Most of the surface lots in Providence predate city efforts to discourage them. Others came about because the city approved them as a temporary use, after a building had been torn down for development, and then the development prospect failed, Azar said.
In the absence of active development, the lots have remained. "Once they've been established, in most cases, they're allowed to continue," Azar said.
Before the 1990s, there was no prohibition on demolition of buildings. Even after restrictions were put in place, high-profile demolitions occurred because the city's demolition provisions had been successfully challenged in court. Several once-prominent buildings, including the original fire and police headquarters, were replaced with parking lots, according to a 2010 Planning Department report.
In 2009, the city strengthened its restrictions on surface parking, allowing building demolitions in the core downtown only after building permits and new architectural plans were in hand.
For the owners and operators of the city's parking lots, the issue is one of supply and demand. Several said the city is misguided in its effort to discourage parking lots, which charge less-expensive rates than garages.
A parking garage costs $35,000 to $40,000 a space to build, said Charlie Meyers, president of Metropark Ltd., which operates 10 surface lots in Providence. He was referring to the most recent estimate for the Garrahy garage, a long-anticipated state project to replace a surface lot near the courthouse at 1 Dorrance Plaza. The 1,250-space structure is expected to cost $43 million, and will be paid for by the R.I. Convention Center Authority.
Meyers operates the 43 Weybosset St. lot that took the place of the never-built condo tower. Demand for his spaces is up, he said. He sees more demand from visitors, as well as businesses downtown, who are adding employees in small increments. "We know they do because they keep giving me calls," he said, of the businesses who want monthly parking agreements.
In the absence of financial assistance to build structured parking, through tax-stabilization agreements, lots large enough to support them and more significant demand, the economics of Providence don't support garages, insists Paolino, whose company – Paolino Properties – owns several surface lots.
The lots he owns are primarily for the use of his building tenants, Paolino explained. The tenants pay for parking, but he can offer it as an incentive when leasing a commercial building.
Although the commercial office market in Providence has absorbed empty spaces in recent years, it still doesn't have enough demand for parking that would support conversion of surface lots to garages, said Paolino.
LOT ECONOMICS
The city views surface lots not as vacant land, awaiting development, but as income-generating properties. They are taxed on income-based assessments, according to Providence Tax Assessor David Quinn. The property owners submit income and expense statements to his office.
The lowest amount assessed for a surface lot, he said, is $7,000 a space. So a lot with 20 spaces, for example, would be assessed at $140,000.
According to city assessment records, the various lots downtown have a wide range of value. Meyers' lot, which is listed by the assessor's office as being at 110 Westminster St., was valued at $394,000 in 2014, with $6,700 of that attributed to the attendant shed.
Several lots in downtown Providence had values exceeding $1 million. The parking lot at 197 Fountain St. was valued at $2.4 million, according to the city records. One at 59 Peck St. is valued at $1.3 million.
In almost all cases, these properties are worth more as lots than as vacant or cleared land, Quinn said.
They would be worth even more with structures. The city assessment for parking garages is about $15,000 to $16,000 a space, about $4,000 more a space than the highest value for a surface lot, according to Quinn. That was based on the last re-evaluation, which was conducted in 2011.
Providence does not impose a separate tax or fee on surface lots, and Elorza said he is not considering one.
That strategy has been used in other cities to discourage traffic or encourage redevelopment. Beginning in the late 1990s, Boston applied a per-space assessment for surface lots in a portion of South Boston, the area now called the Seaport district, according to Schrieber.
In Montreal, Quebec, the city adopted a tax on parking lots based on square footage, according to Donald Shoup, distinguished professor of urban planning at the University of California Los Angeles.
"It worked beautifully," Shoup said, adding it encouraged redevelopment of surface lots. "The profits from surface parking go way down. It isn't that other things became more profitable, it's that surface parking is less profitable."
In 2010, a Providence neighborhoods planning document approved by the City Plan Commission identified Meyers' Weybosset Street lot as a "land-use challenge" for the city.
The surface lot there now would no longer be allowed under the new zoning. Azar says surface parking should not be in that location.
"It's the Financial District. It has an intact collection of buildings," he said.
The site could be the last standalone, paid parking lot created downtown.
"That's our hope," Azar said. •