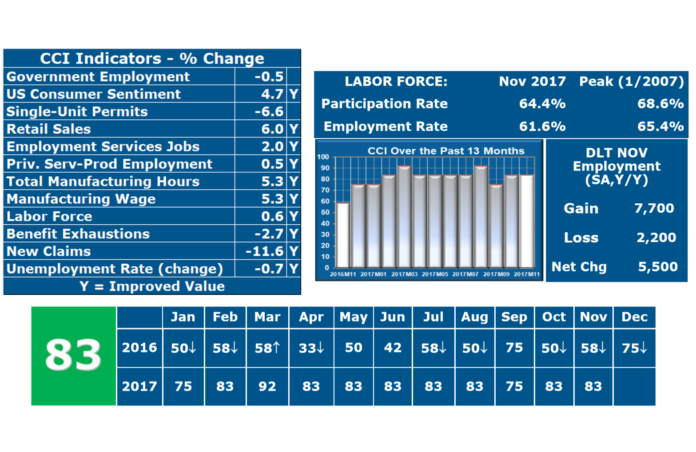 SOUTH KINGSTOWN – Rhode Island has moved "well beyond" the "soft patch" of 2016, said University of Rhode Island economist Leonard Lardaro in his most recent Current Conditions Index, which measured the state's economy at 83 in November.
Unchanged from October, November's 83 represents a 25-point gain year over year. In February, April, May, June, July, August and October of 2017 the state's economy also measured 83.
The CCI measures 12 economic indicators that are generally representative of the economic climate of the state. A value above 50 implies economic expansion while a value less than 50 indicates contraction.
Lardaro explained while several of the indicators had "stellar performances" in 2017 as the report's measurement remained in the low 80s for much of the year there still remain signs which are concerning for future employment.
In November, the unemployment rate fell by 0.7 percent to 4.3 percent. However, Lardaro pointed out that while the number of employed Rhode Islanders showed a year-over-year increase, it has declined month-over-month for five consecutive months. Similarly, while the labor force showed a year-over-year increase, it had fallen for four months in a row on a month-over-month basis.
Ten of the CCI's 12 indicators had positive performances in November, with total manufacturing hours and retail sales experiencing "sustained very substantial momentum," while two, single-unit permits and government employment fell.
Total manufacturing hours, a proxy for manufacturing output, rose by 5.3 percent as the workweek lengthened and employment rose.
Manufacturing wage grew by 5.3 percent.
Retail sales grew by 6 percent in November after a 2017 peak of 7.4 percent in September.
Declining for the past four months on a month-over-month basis, the state's labor force grew 0.6 percent over the year.
Employment service jobs, a leading indicator of future employment "rose sharply," by 2.0 percent.
The timeliest measure of layoffs, new claims, fell by 11.6 percent in November.
There was a 4.7 percent improvement in U.S. consumer sentiment in November – the indicator's thirteenth consecutive increase.
A "sluggish" 0.5 percent jump occurred in private service-producing employment.
There was a 2.7 percent fall in November of benefit exhaustions, which reflect long-term unemployment.
Reflective of new home construction, single-unit permits fell by 6.6 percent in November.
In November, government employment fell by 0.5 percent.
Emily Gowdey-Backus is a staff writer for PBN. You can follow her on Twitter @FlashGowdey or contact her via email, gowdey-backus@pbn.com.