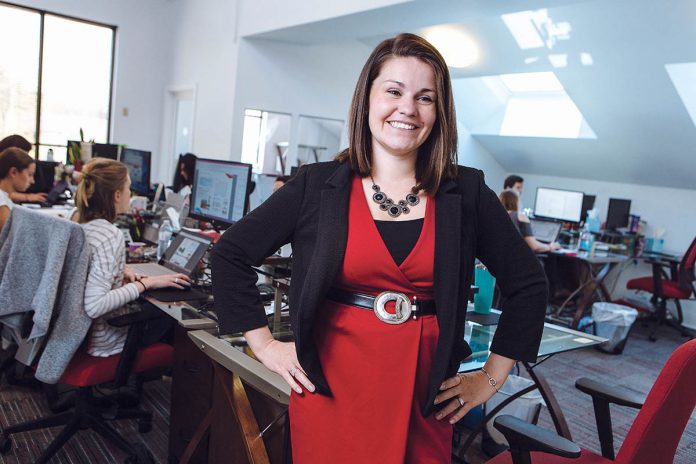 Women to Watch, Creative Services | Morgan Durfee, TribalVision
---
By the time TribalVision Senior Marketing Manager Morgan Durfee joined the Warwick-based, outsourced-marketing company, she'd already led a successful startup for several years and won funding in two business competitions.
Working with a few classmates at Bryant University in Smithfield, filtered water-bottle company Inspire Green was born. Inspire Green won a Babson College business competition in Massachusetts and placed second in the Rhode Island Business Plan Competition, netting $40,000 in funding and about $100,000 worth of professional support.
Not bad for a 19-year-old CEO.
"I learned a ton," said Durfee about the eco-friendly container venture, a means to cut down on plastic bottle waste. "We had five people total in our organization, but we all wanted to do other things after college. My passion is better aligned with TribalVision."
Durfee was the first intern ever at TribalVision.
She worked her way up to her current position, which both grants and requires her to deliver for client companies a broader-reaching perspective.
'We help B2B and B2C companies … be in a place to better position themselves.'
MORGAN DURFEE, TribalVision, senior marketing manager
In a strategic role, Durfee now works with client marketing managers to oversee their teams and review their client-facing deliverables, she said. Problem-solving – with return on investment never far from mind – is another facet of Durfee's position.
"A lot of companies we work for have trouble getting new business leads," Durfee said. "We help B2B and B2C companies focus on getting new business in the door as well as re-engagement strategies, [figuring out] what a company can do to be in a place to better position themselves," she said.
Building campaigns, email and marketing automation, and digital advertising are part of the package as well.
Video is an area for which many clients need encouragement, Durfee noted.
One area in which video can work exceptionally well is by giving marketing messaging a behind-the-scenes feel. TribalVision and Durfee recently helped out with a Dave's Marketplace video showing a fish manager going to a dock and buying fish – going a step beyond a mere statement to Dave's customers of, "We employ fishermen," she said.
But it's about more than show and tell.
"Our role is telling the client, 'You have some really incredible customers that would make for amazing client testimonials,' " she said, making for relatable, easily digested videos connecting them with their markets.