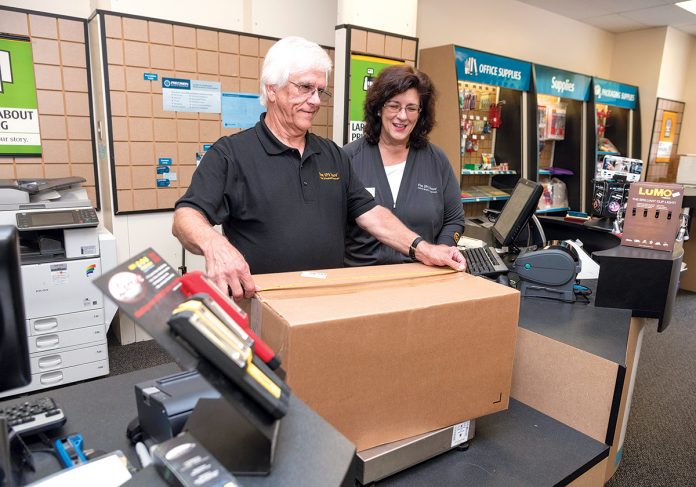 Aurelia and James Donovan, Irene and Scott Schmitt
UPS Store | 2130 Mendon Road, Cumberland
---
The pitch: The UPS Store handles packing and shipping of packages, as well as professional printing services and binding services for individuals and businesses.
Years in business: 14
Employees: Five
Cost to obtain franchise: $58,248-$230,160 startup costs for store-in-store locations; $168,885-$398,323 for traditional locations; $166,659-$309,045 for rural locations.
Before opening franchise: Aurelia Donovan worked in the banking industry for several years, until she and members of her family – sister Irene Schmitt and her husband, Scott, and Donovan's husband, James – opened their UPS Store.
Reason for opening: Donovan's career change allowed her to not only start a new venture but also spend more time with her family and to be her "own boss," she said.
"It took a good five years to get the customer base, and now we have quite a bit of customers. When we started, it was me and one other employee. Most days, we twiddled our thumbs. Now, with all of us, we don't have much time at all to twiddle our thumbs … [the business is that strong]."  – Aurelia Donovan
"Do not be in a rush to get into the profit mode. It takes a few scrambled eggs to make a perfect omelet. [Owning a franchise] is a great way to, but it takes patience just like any business. Once you're there, it's a pretty easygoing thing."  – Aurelia Donovan