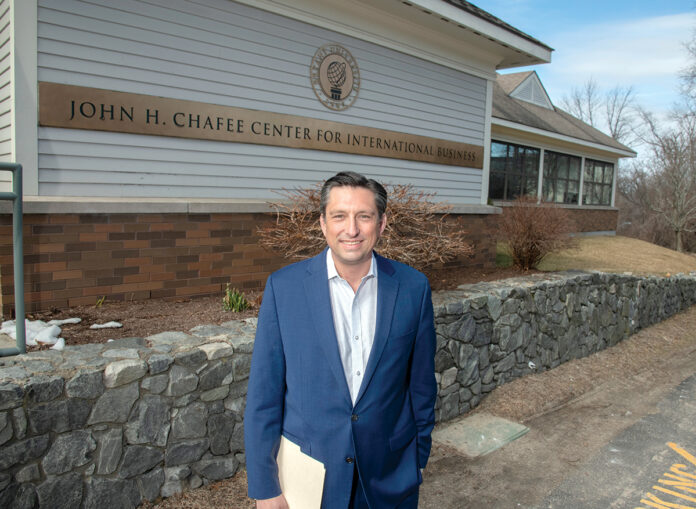 SMITHFIELD – For the third time in the last four years, the John H. Chafee Center for International Business at Bryant University is seeking a new director.
Less than a year after becoming the Chafee Center's director, Andrew Gelfuso has resigned from the position "recently," Chafee Center International Trade Specialist Cecilia Pirotto confirmed to Providence Business News this week. She also confirmed that Edinaldo Tebaldi, an economics professor at Bryant, is serving as the Chafee Center's interim director.
Bryant spokesperson Karen Greco told PBN in an email that Gelfuso left the Chafee Center to "pursue other professional opportunities." She did not immediately say when the university hopes to have a new permanent director named for the center. Tebaldi in a statement to PBN said the characteristics the Chafee Center is looking for in a new director is someone "with deep public policy experience and skilled fiscal manager who can work with a variety of stakeholders at the local, state, and federal levels and is a staunch advocate for Rhode Island's robust small business community."
Gelfuso left the Chafee Center not long before the center is scheduled to hold its annual World Trade Day in person at Bryant for the first time since before the COVID-19 pandemic on May 31. The Chafee Center last year canceled its World Trade Day and held the 2021 event virtually.
With Gelfuso's departure, Bryant will once again be searching for someone to lead the Chafee Center. Mark S. Murphy, a former PBN editor, left the Chafee Center on Jan. 31, 2022, after leading the center for more than two years and he declined to say at the time why he left the position. Murphy succeeded the late Raymond W. Fogarty – who died on Sept. 27, 2018 – as the center's director on Oct. 7, 2019.
Bryant officials did not answer questions Thursday if the university is concerned with the recent leadership turnover at the Chafee Center or if there will be an emphasis during the hiring process in seeking a new director who is committed to leading the center long term. Greco did say Tebaldi is "extraordinarily qualified" to strengthen the center and its partnership with the state at this "very important time in R.I. for international trade and business."
(Update: Adds comment from Tibaldi in 3rd paragraph, last paragraph clarified)
James Bessette is the PBN special projects editor, and also covers the nonprofit and education sectors. You may reach him at Bessette@PBN.com. You may also follow him on Twitter at @James_Bessette.

Want to share this story? Click Here to purchase a link that allows anyone to read it on any device whether or not they are a subscriber.