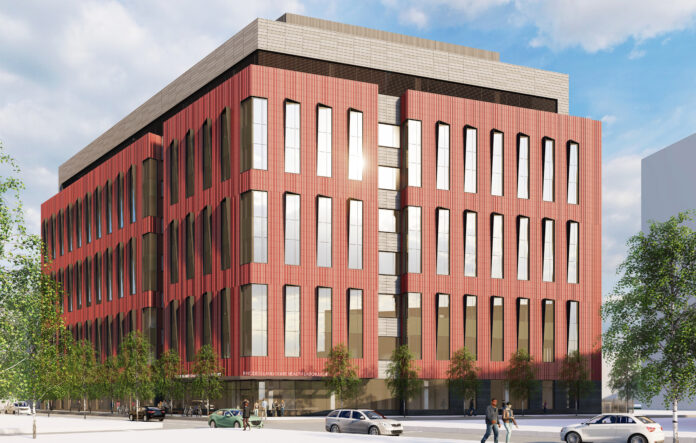 PROVIDENCE – The I-195 Redevelopment District Commission unanimously approved the final design for the new state health lab on Wednesday.
Ancora L&G LLC, the developers behind the $165 million project, submitted the final design for review after addressing the comments and feedback received during the concept design review process. Ancora presented the updated design on Wednesday, which includes some design changes to the building's exterior and site plan.
At Wednesday's meeting, Tim Love of the commission's architectural consultant Utile Inc., complimented the developer for the "positive, very nuanced" changes and recommended that the commission approve the project upon a series of conditions, including changing the design of the front and north façade.
Representatives from local neighborhood associations also largely expressed their support for the project.
Ancora L&G is building an eight-story, 208,000-square-foot building at Richmond and Clifford streets. As proposed, the R.I. Department of Health will anchor the building, using the first, second and third floors. The space will replace its aging lab on Orms Street.
The building will also include 91,473 square feet of commercial space, a 2,695 square-foot cafe in the first-floor lobby, a small amount of on-site parking, a covered bicycle storage area and, potentially, outdoor seating. There are also designated truck loading zones and delivery dropoff spots, plus a penthouse storage area for mechanical equipment, according to design plans.
Developers said they still aim to begin construction in March, with a completion date sometime in 2025.
The commission also voted to approve the final design for a 61-unit mixed-income building, the second phase of the $48 million mixed-income housing project proposed by the Philadelphia-based Pennrose LLC on Parcel 9 in the Fox Point neighborhood. According to a presentation by the developers, construction of the west building is expected to start in April, while construction of the east building will start near the end of 2023.
The Fox Point Neighborhood Association expressed its support for the project in a letter to the commission, despite harboring some lingering concerns related to the design of the courtyard and whether the project has enough parking.

Want to share this story? Click Here to purchase a link that allows anyone to read it on any device whether or not they are a subscriber.