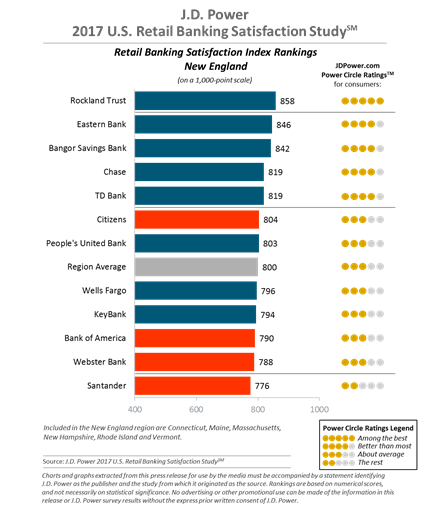 COSTA MESA, Calif. – Rockland Trust received the highest rating of customer satisfaction for retail banking in New England for 2017, according to an annual report by J.D. Power and Associates.
The global marketing information group reports Rockland Trust received an 858-point rating out of 1,000, marking a full 12 points higher than the No. 2 bank: Eastern Bank.
TD Bank ranked No. 4, tied with Chase Bank at 819 points. Citizens Bank, based in Providence, ranked No. 6 with 804 points.
Wells Fargo, which doesn't have retail operations in Rhode Island, has been subject to great scrutiny for its role in opening unauthorized bank accounts for customers in an attempt to boost deposit numbers. The bank ranked at No. 9 with 796 points, just below the region average of 800.
Despite the unwarranted activity, the bank outperformed Bank of America, ranked third worst with 790 points; Webster Bank, ranked second worst with 788 points; and Santander Bank, ranked last with 776 points.
Rockland Trust had the second-highest ranking in the nation after BancFirst in the Southwest region, according to the report.
J.D. Power, in its report, said retail bank branches – despite the rise of digital banking – are still having a "significant effect on customer satisfaction across all customer age groups."
"There is no question that banks need to get the digital experience right in order to attract and retain customers, however, the branch continues to play an important part of the overall customer experience," said Jim Miller, senior director of banking at J.D. Power. "The trend is particularly noteworthy among millennials who represent the future of banking, and consistently demonstrate that overall satisfaction is higher among customers who use both the branch and mobile banking. Banks can't choose between the two channels; rather, they must focus on how the two work together."
Correction: An earlier version of this story misstated the rank of T.D. Bank. There is no fifth-place ranking, as T.D. Bank and Chase Bank tied at No. 4.  
Eli Sherman is a PBN staff writer.