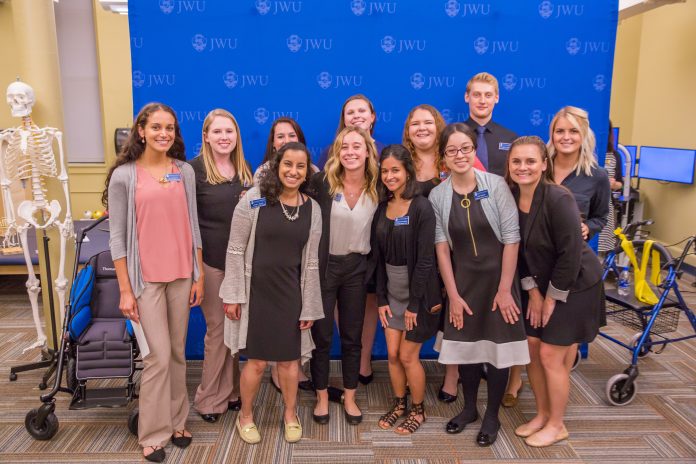 PROVIDENCE – Johnson & Wales University has welcomed its inaugural class of 12 students for the state's first entry-level occupational therapy doctorate program.
The full-time, three-year program's designation as entry-level allows students with a bachelor's degree to be eligible for admission, rather than requiring a master's degree, JWU spokesman Ryan J. Crowley said.
The school hopes to eventually increase enrollment to 42, he added.
Part of JWU's College of Health and Wellness, the program is housed in the school's Downcity campus. The space includes an occupations lab, which features modified versions of a living room, kitchen and bathroom; equipment to allow for assessment and training; and a hospital-bed area where students can interact with an artificial intelligence patient.
A driving simulator allows for assessment on the effects of visual, cognitive and motor impairments on driving, and an action lab helps protect students as they learn to transfer and move patients with special needs and mobility impairments.
The program employs up to six full-time faculty, one adjunct professor and one staff member, Crowley said.
JWU created it after hearing from the health care industry that the need for occupational therapists is growing, said Ann Burkhardt, the program's founding director.
"With input from industry leaders, we designed a program with diversity of access to inter-professional partners, a broader view of health and wellness as it affects quality of life, and real-life experiences to push the borders of practice to be more inclusive," Burkhardt said.
Graduates of the program can pursue jobs in hospitals, rehabilitation facilities, outpatient clinics, schools, skilled nursing facilities and other venues, JWU says.
"Our graduates will have the knowledge, skills and experience to propose, design, develop and grow practices to better meet the needs of people across the lifespan and to change care delivery for the shifting demographic of consumers of care," Burkhardt said.