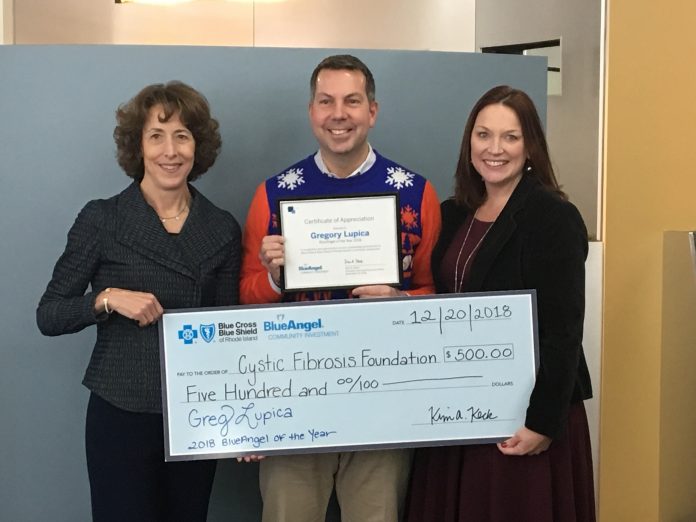 PROVIDENCE – Greg Lupica, director of information technology system support at Blue Cross & Blue Shield of Rhode Island, has been honored by his peers for his commitment and leadership in giving back to the Rhode Island community.
On Dec. 20, Blue Cross named Lupica the 2018 BlueAngel of the Year in honor of his years of service to the community organizing the annual Great Strides Walk fundraiser benefiting the Cystic Fibrosis Foundation's efforts to research treatments and cure for the progressive, genetic disease that causes persistent lung infections and limits the ability to breathe over time.
"Greg is a longtime leader and participant in our fundraising events and has been a steadfast champion in leading efforts to support the Cystic Fibrosis Foundation, a cause that is personally meaningful to his family," said Carolyn Belisle, managing director of community relations at Blue Cross. "Greg has organized and staffed the Rhode Island Great Strides Walk for more than 20 years. He always finds a way to engage colleagues across the company in his family's efforts to support the CF Foundation."
Each year since 2001, the BlueAngel of the Year Award has honored Blue Cross employees who make a difference by serving the local community through their long-term participation in the BlueAngel Community Investment Program. Nominations are submitted by Blue Cross employees who then vote to select the honoree.
At the ceremony announcing Lupica as the 2018 BlueAngel of the Year, Blue Cross awarded a $500 grant to Lupica's organization of choice, the Cystic Fibrosis Foundation.
"If you know Greg, you know he's a modest and understated person, and yet, he is an effective advocate. His BlueAngel of the Year nominator described him as a cheerleader without a megaphone. He gets his colleagues really excited about supporting the foundation," Belisle said. "Greg also finds time to serve as a board member for the Camp Street Community Ministries Food Pantry in Providence. He's logged nearly 100 hours in our employee volunteer program."
Lupica isn't alone in working to aid Blue Cross & Blue Shield of Rhode Island's mission to support the local community. In 2018, Blue Cross employees contributed nearly 10,000 volunteer hours serving organizations across Rhode Island.
Rob Borkowski is a PBN staff writer. Email him at Borkowski@PBN.com.