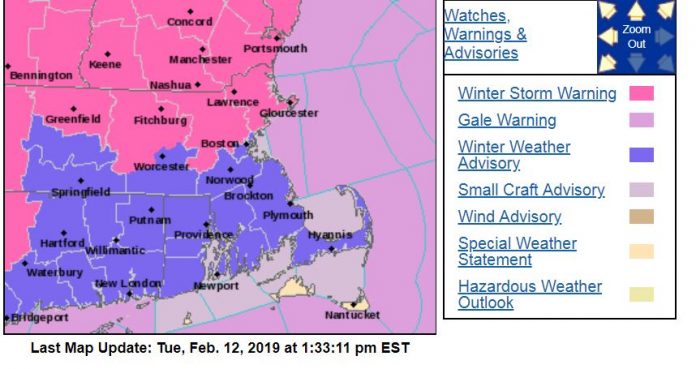 PROVIDENCE – The National Weather Service has issued a Winter Weather Advisory for Providence County, Kent County, Bristol County, Washington County and Newport County until 11 p.m. Tuesday.
The NWS also issued a special weather statement Tuesday for Newport County, Providence County, Bristol County and  Bristol County, Mass., warning that snow with a visibility of 1 mile or less will impact the region.
Snow is expected to remain in the area until 3 p.m.
The NWS said road conditions "can deteriorate quickly" and that residents should be alert for icy roads and poor visibility. The NWS also advised motorists to slow down and avoid breaking suddenly, and asked drivers to allow extra travel time, predicting "significant travel impacts," to the afternoon and evening commutes.
A total daytime accumulation of 2-4 inches of snow and sleet is expected in the Providence area, with precipitation transitioning to freezing rain. Precipitation is expected to be all rain after 11 p.m.
Several parking bans have been issued in Rhode Island, including in Central Falls, Coventry, Cranston, Cumberland, East Greenwich, East Providence, Lincoln, Middletown, North Kingstown, North Providence, North Smithfield, Portsmouth, Scituate, Smithfield, South Kingstown, Warwick, West Warwick and Woonsocket, as well as in Seekonk and Swansea.
Details of the parking bans may be found here, along with school closings and early dismissals.
The R.I. House and Senate sessions have been cancelled today.
The R.I. Public Transit Authority said Routes 21, 56, 60, 62, 66 and 71 are currently on detour due to the storm. RIPTA will provide updates on routes on its website.