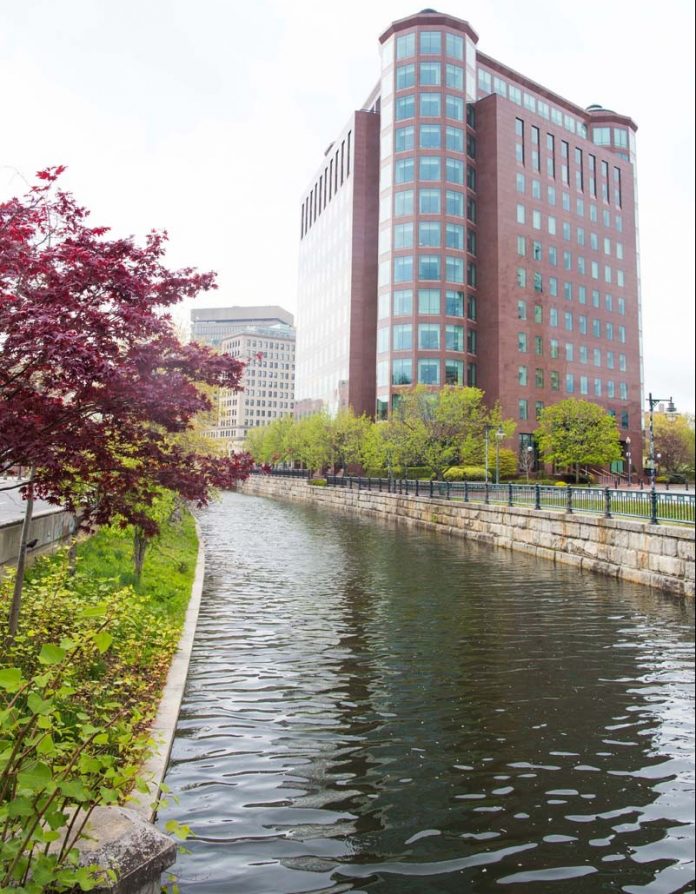 PROVIDENCE – The recent sale by auction of the leasehold for 1 Citizens Plaza has resulted in new mortgages for the property totaling $17.2 million, according to city property records. The building, headquarters for Citizens Financial Group Inc., had been owned by One Citizens Plaza Holdings LLC, which sold the rights to the mortgage to a collection of buyers for $10.
One Citizens Plaza Holdings was a subsidiary of CW Financial Services LLC, a real estate and loan investment company based in Bethesda, Md. The company acquired the leasehold mortgage for the building in a foreclosure sale for $35 million in 2012 from First States Investors 240 LLC – the same lease sold this past week. At the time of the foreclosure sale, First States Investors owed more than $45 million on the mortgage. The 0.92 acre lot is leased from Providence-based Capital Properties Inc.
The purchasing entity – actually a consortium of numerous LLCs and other corporations – then entered into agreements with BancFirst Corp., an Oklahoma banking association, for two mortgage agreements that totaled $17.2 million – one for $16.7 million and the other for $500,000.
The ground lease assumption documents also noted that One Citizens Holdings entered into a purchase and sale agreement with 485 Fall Creek LLC, registered to Thomas J. O'Brien at the address of a CBRE Tulsa office.
It is unclear to which entity the mortgage proceeds will be paid.
The purchaser included Radix Equity LLC, as previously announced by CBRE Group Inc., the facilitator of the sale, but also FMR Providence LLC, M.M.O. LLC, 38th Street Investment Corp., 1701 R.C. Sarasota Investments LLC and Blue Bell Citizens Plaza LLC.
All of the companies in the mortgage agreement are Oklahoma-based, with listed managers of Cary D. Phillips, Eric M. Bohne, Thomas J. O'Brien and Daniel S. Buford.
The largest interest stake in the mortgages is to 1701 R.C. Sarasota Investments, with the listed manager being Buford.
Two of the companies, Radix and FMR, are registerted to Phillips, president of Radix Equity and former managing director at CBRE Oklahoma/Arkansas, according to Phillips' LinkedIn profile. Phillips was a senior leader of a CBRE affiliate in Oklahoma that was acquired by the company in 2014, taking on co-founder Thomas J. O'Brien, and senior leaders Phillips and Lori Bryant, according to a CBRE release at the time of the acquisition.
According to Phillips' LinkedIn profile, he left CBRE to lead Radix Equity in July 2018.
The Citizens building had been auctioned in October, following an August announcement, but it is unclear if the auction led to the mortgage agreements recorded last week.
Chris Bergenheim is the PBN web editor. Email him at Bergenheim@PBN.com.