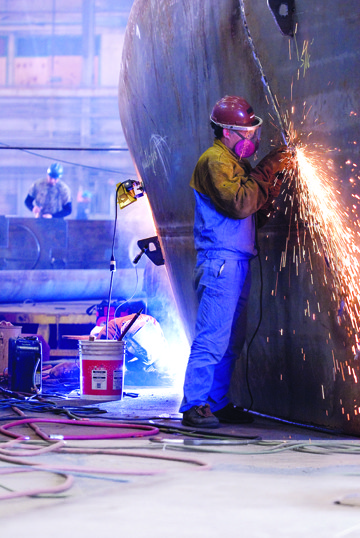 NORTH KINGSTOWN – Orsted U.S. Offshore Wind has entered into an agreement with WindServe Marine LLC to construct a Crew Transfer Vessel at WindServe's affiliate shipyard Senesco Marine in North Kingstown, the companies announced Wednesday.
The project is expected to employ 40 tradespeople, engineers and managers in the state. The ship was designed by BMT Group Ltd., based in the United Kingdom. Construction is expected to begin in 2020. A previous CTV for use with the Block Island Wind Farm was built in 2016 by Blount Boats Inc. in Warren.
"As offshore wind development enters an exciting new phase here on our shores, WindServe Marine is the right partner for Orsted to ensure that our vessels are locally built and locally operated," said Thomas Brostrøm, president and CEO of Orsted North America. "The American offshore wind industry started here in Rhode Island, and we are dedicated to fulfilling our promise to develop a domestic supply chain and increase job opportunities in the renewable energy industry."
The company said the vessel will be used to transport personnel for construction, maintenance and operation from port to projects off the New England coast. The company also specifically identified that the ship will be used in the Orsted and Eversource Revolution Wind project.
The project's purchase price agreement with National Grid Rhode Island is still under review by the R.I. Public Utilities Commission.
The agreement also included WindServe building a CTV at U.S. Workboats in Hubert, N.C., to be utilized for Orsted's Coastal Virginia Offshore Wind Project and later other Northeast wind projects. The vessel is already under construction with delivery anticipated early next year, according to the company.