WARWICK – Unconscious bias, strategic diversification to include people of color and women as well as the roots of diversity and inclusion from how we educate students were among the focus of the conversation Thursday at Providence Business News' first-ever Workforce Excellence, Diversity and Inclusion summit.
Approximately 100 local business people, human resources representatives and corporate community leaders from across Rhode Island attended the three-hour event at the Crowne Plaza Providence-Warwick hotel.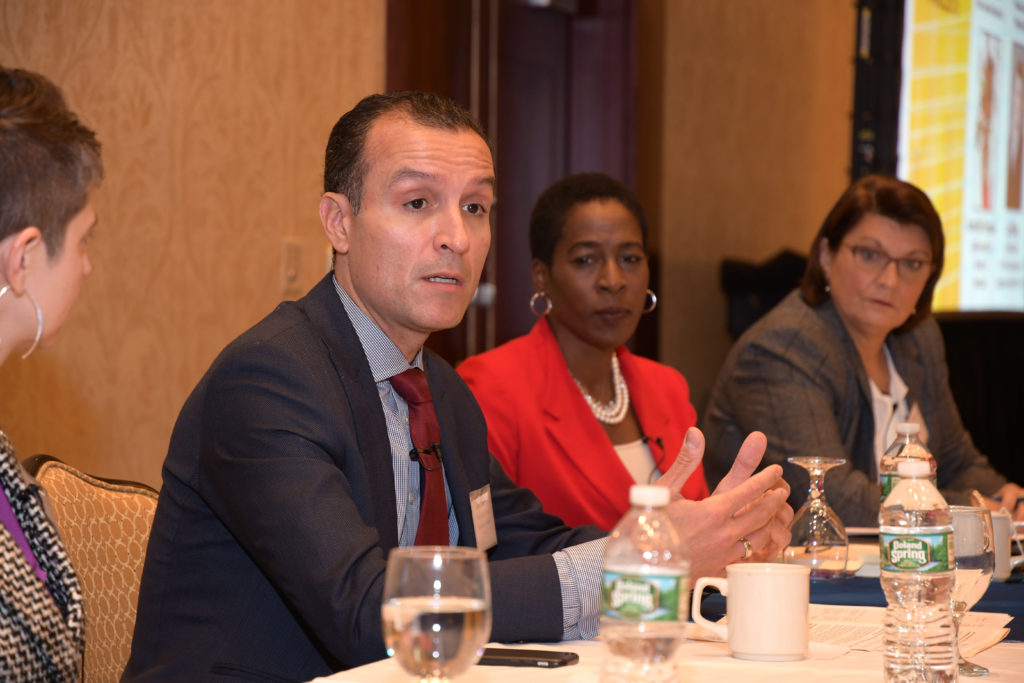 Emceed by PBN editor Mark S. Murphy, a group of diverse panelists fielded questions from him as well as guest-submitted queries. They were:
Stephanie Huckel: As manager of culture and diversity and inclusion at Blue Cross Blue Shield of Rhode Island, Huckel oversees the diversity council and employee resource groups and works in partnership with executives to develop and achieve organizational objectives leveraging the impact of diversity and inclusion.
Juan Lopera: Vice President of Business Diversity for Tufts Health Plan, Lopera is responsible for company-wide efforts to identify and implement strategies to grow Tufts' presence in diverse communities, regarding members, providers, brokers, employers, employees and vendors.
Naomi Ruth Thompson: Since 2012, Thompson has served as the University of Rhode Island's first permanent associate vice president of community equity and diversity advancing the school's goal of building a community which values and embraces equity and diversity.
Lisa Whiting: Neighborhood Health Plan of Rhode Island's vice president and chief human resources officer, Whiting is leading the charge at Neighborhood to consistently improve diversity and inclusion metrics, employee engagement and inclusive work practices.
Building off the national conversation regarding implementation of diversity and inclusion in the workforce, Huckel jumpstarted the conversation by comically differentiating the two.
"Diversity is being invited to the party and inclusion is being asked to dance," she said.
However, one of the most negatively influential habits impacting the degree to which corporations and businesses accept the need to discuss diversity and inclusion and address those issues within their workforce is unconscious bias.
Unconscious bias, she said, "are things we act on without thinking, shortcuts our brain has developed to help us." Huckel said the idea grew in prominence to become a major social influencer during the 2016 U.S. presidential election.
This unconscious behavior has impacted who and how professionals interact with one another in the workforce today and the ways in which society molds the workforce of tomorrow.
She stressed the importance of taking opportunities both as individuals and as organizations to change the narrative and create an environment in which others feel comfortable standing up for themselves, sharing their ideas and their experiences.
The panelists had various suggestions for how companies – large and small – can begin to address unconscious bias and develop a more diverse, inclusive employee base.
Often, said Lopera, organizational leadership is not the first to agree subjects including diversity and inclusion are a priority. When that is the case, he said, a "grassroots," awareness-building movement based on existing employee demographics can be most effective.
Writing down goals, creating advisory groups based on demographics represented in the workforce and gaps present and always asking questions, is how Thompson suggested organizations begin the process of diversification and inclusion.
Once a company has recognized diversity and inclusion may be lacking in their workplace they should write down a goal, measure it and report on it said Whiting. She added that Neighborhood has previously analyzed its turnover rate, exit interviews and personal interactions to help report on and achieve those diversity and inclusion goals.
In addition to creating new processes internally, Whiting said it is imperative for an organization to embrace the community.
"Building in volunteerism helps your workforce connect with their community … and [develops] a level of respect" between your workers and the society, she said.
For the Thursday event, PBN launched the hashtag #PBNDiversitySummit to spur continued discussion online. Below are select tweets from participants:
At the #PBNDiversitySummit with @svhuckel and @BCBSRI pic.twitter.com/0IFPxb0Y9M

— Kevin Matta (@Kmatta0503) December 7, 2017
#pbndiversitysummit kicking off. @HighlanderInst #continuousimprovement pic.twitter.com/eHX29KDjjB

— Dana Borrelli-Murray (@DBorrelliMurray) December 7, 2017
In addition, panelists suggested the below organizations as helpful resources to begin a conversation about diversity and inclusion in the workplace.
Blue Cross & Blue Shield of Rhode Island, Neighborhood Health Plan of Rhode Island and Tufts Health Plan all sponsored the event.
Emily Gowdey-Backus is a staff writer for PBN. You can follow her on Twitter @FlashGowdey or contact her via email, gowdey-backus@pbn.com