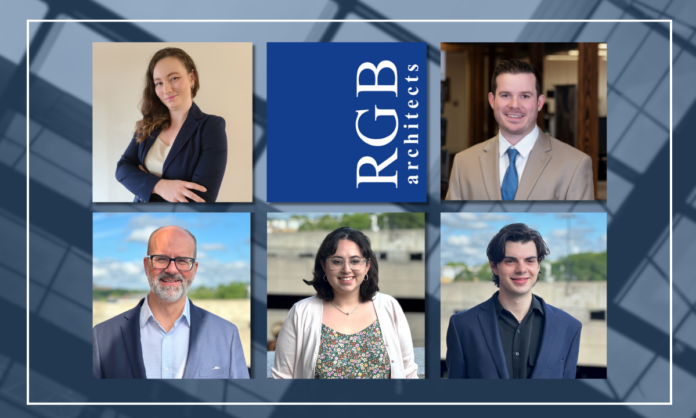 RGB Architects is pleased to welcome the following professionals to their growing team.
Philip J. Derby joins RGB as the newest Senior Project Architect bringing nearly 20 years of experience with a thorough and careful approach ensuring quality and technical excellence. His extensive knowledge involves adaptive reuse, and renovation of commercial structures in the academic, hospitality and retail markets. Philip will lead RGB in the Florida region, with a focus on high end commercial and retail projects. He holds a Master of Architecture from University at Buffalo, NY, and a Bachelor of Arts degree from the State University of New York at Fredonia. RGB is proud to have a former Board of Directors Secretary & member of the Pawtucket Arts Collaborative, a volunteer for Habitat for Humanity.
Jacqueline S. Esmay joins RGB as one of the newest Architectural Lead Designers. Her experience in several New England states has been focused on residential housing and commercial real estate projects, working directly with clients on a personal level. She holds a Master of Architecture from Tulane University School of Architecture, New Orleans. She is also a recipient of the ACSA Design-Build 2020 Architectural Education Award for Tulane's Groundwork Project, an outdoor community facility run by a non-profit organization which educates students about environmental conservation, water management, and urban agriculture.
Joshua M. Nolle is re-joining RGB as a Job Captain focusing on the firm's ongoing government and medical projects. Joshua had been an integral part of the RGB team since 2020 working with several VA hospital and institutional clients. With more than 15 years of experience in the construction and architectural industry, he has also obtained his Massachusetts Construction Supervisor's License and will support the team with this asset in the field. He holds a Bachelor of Architectural Building Technologies Degree from the New England Institute of Technology.

Samantha J. Oliveira has been strategically selected as RGB's new Marketing Assistant, bringing proficient knowledge and execution of industry-leading technologies to RGB's Marketing Team. Samantha will be implementing the newest social media and website initiatives. She is currently pursuing a bachelor's degree in marketing at Providence College, and her natural talent is contributing to the accomplishment of short- and long-term goals for the firm.
Mason W. Lantz joins RGB as the newest Architectural Designer, bringing experience as a Detail Graphic Designer. Mason graduated from Roger Williams University with a Bachelor of Science in Architecture. He is currently working on several municipal projects delivering the attention to detail that these types of projects demand. Mason is a grant recipient of the New Hampshire Chapter of the American Institute of Architects and the New Hampshire Architecture Foundation of their jointly sponsored scholarship programs.