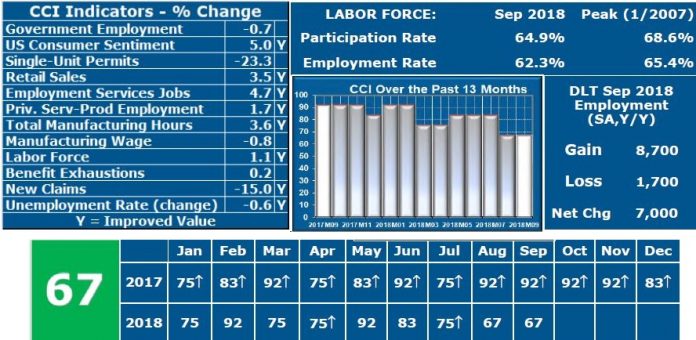 SOUTH KINGSTOWN – Calling the third quarter of 2018 "disappointing at best," University of Rhode Island economist Leonard Lardaro's Current Conditions Index report measured a 67 for September, marking no change from the August value.
Monday's value represents a 25-point decline year-over-year, the same performance as August, and is the lowest value measured in 2018 to-date. Comparatively, the lowest value registered in all of 2017 was 75, which appeared in January, April and July.
Published monthly, the CCI measures 12 economic indicators that are representative of the economic climate of the state. A value above 50 implies economic expansion, while a value less than 50 indicates contraction.
Noting that despite two "very high values" in February (92) and May (also 92), Lardaro characterized the CCI's  performance through the first nine months of 2018 as "lackluster."
CCI values have beaten their 2017 counterparts just twice in 2018. And, between January and September, six months either matched or fell below the corresponding 2017 values, according to Lardaro's data.
Monday's report marks the seventh month in 2018 in which the CCI value either matched or did not increase year-over-year.
In September, eight of the CCI's 12 indicators saw improvement, equal to the eight which saw positive results in August.
A 0.7 percent dip was measured in government employment in September.
U.S. consumer sentiment grew by 5 percent in September.
Single-unit permits, reflective of new home construction, "fell very sharply" in September, by 23.2 percent. This marks the indicator's eight decline in 11 months.
A 3.5 percent bump was measured in retail sales in September.
Employment services jobs saw a 4.7 percent jump in September – the second improvement since July.
Private service-producing employment grew by 1.7 percent in September.
A 3.6 percent bump was witnessed in total manufacturing hours in September.
The state's manufacturing wage fell by 0.8 percent in September.
Rhode Island's labor force grew by 1.1 percent in September
A measure of long-term unemployment, benefit exhaustions "atypically rose" in September, said Lardaro, by 0.2 percent.
New claims saw a 15 percent decline in September – the indicator's third improvement in the last six months.
September 2018's unemployment rate fell by 0.6 percentage points in September compared to September 2017.
Yes, the CCI remains above 50 which means the state's economy is growing, said Lardaro but the rate is "slowing."
While the positive aspects of the report still outweigh the negatives, this year's "string of lower CCI values indicates that the foundation of this recovery has [fewer legs to stand on]," he said.
Emily Gowdey-Backus is a staff writer for PBN. You can follow her on Twitter @FlashGowdey or contact her via email, gowdey-backus@pbn.com.