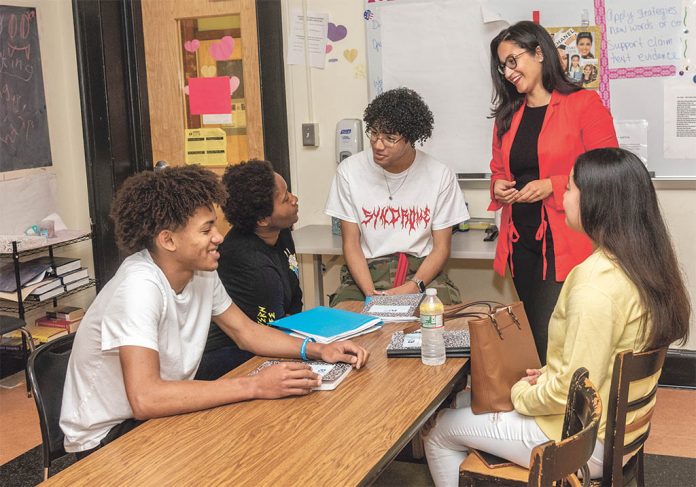 "I don't know how to explain it. I had a nagging feeling I was supposed to give birth to something big," said Marcy Reyes.
Reyes always had an innate sense of being a change-maker. Successful corporate roles, including serving as assistant vice president of consumer credit for Santander Bank, and initiatives were satisfying, but she still wanted to give back more. For her, it wasn't a question of what she'd do to make a mark on her community, it was more a sense of when.
It's why she founded The Financial Literacy Youth Initiative in 2017. "I was talking about a financial literacy program for years and years … it never really went away." Nor did the need for the FLY Initiative among underrepresented students living within environments of generational poverty.
The program is making its mark, said Daniel Kuhn, vice president at Morgan Stanley Wealth Management in Providence, a member of Reyes' graduating class at Rhode Island College.
"Marcy's work is pivotal – providing students with the knowledge and skills to manage financial resources effectively, giving them the opportunity of a lifetime of financial well-being," he said. "This monumental initiative is shaping the future of financial education in the state."
Founding a nonprofit that helps young people in the community develop financial literacy skills capable of opening up new opportunities is just part of the picture for Reyes.
She is the manager of Blue Cross & Blue Shield of Rhode Island's small-group rating and operations and an adjunct member of the faculty at RIC, where she teaches courses in finance. In terms of volunteerism, Reyes is on Blue Cross' Diversity and Inclusion Council board, as well as the board of the Rhode Island College Alumni Association. She also makes time to chair Blue Cross' Latin@Link employee resource group and mentors students pursuing master's degrees in finance at Northeastern University in Boston, a path she, herself, completed.
Empowerment through personal and corporate finance is her passion. Giving back by spreading her wisdom through the FLY Initiative and other means is a perfect mix of getting behind a cause near and dear to her heart while sharing the wealth.
Learning how to manage money is a secret weapon more young people need, she says, to empower them to make the right choices. Just knowing what questions to ask and where to go for resources goes a long way in spurring opportunity. It's a knowledge and power her teenage daughter Katia has, says Reyes.
"We've been talking about money management for a really, really long time – a savings plan, including the time value of money; opportunities to invest; and how interest is compounded over time," said Reyes. Now, as she gets ready to attend college in California, Katia is saving to purchase a Vespa scooter. Considerations on the Vespa's limitations, buying new versus buying used, and interest-rate levels have all come into their conversations, said Reyes.
Concepts such as setting savings goals and comparing investment options may seem like baseline considerations to some. But Reyes sees "taking the mystery out of it" in terms of finances and money management as integral to making young people self-sufficient.
Reyes' perspective comes with a contrast in background, she says, having been raised in a multicultural, military family that moved often and didn't speak much of money or how it works.
"I didn't have adults to guide me through," said Reyes. "I was bringing home a paycheck at 14 and would give all but $20 of it to my mom – I didn't know where it went … no one ever explained."
Balancing a checkbook wasn't something Reyes understood until a RIC class in personal finance flipped a switch for her. She said the class changed her life in terms of helping her figure out how to get her credit on track, pay for college and buy a car. Reyes became a RIC adjunct professor, which allowed her not only a way to pay off her school loans, but to pass along her personal-finance knowledge, as well.
Social media and its idolization of money and the things it can buy are one of the themes in her curriculum, Reyes said, a concept that can be a challenge for young people today.
In her classes, she holds up a photo of a mansion and of a modest home. She asks students which homeowner they think has more money.
"The mansion is a home of [hip-hop artist] MC Hammer, now bankrupt, the other is the home of [business magnate] Warren Buffet," said Reyes. Buffet lives in a home he reportedly bought in 1958 for $31,000.
"We are not defined by the objects we own," said Reyes.