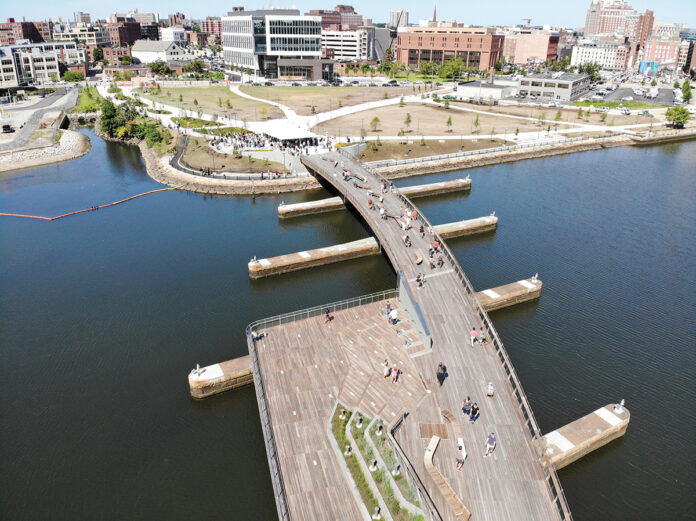 REAL ESTATE
---
Real estate has taken center stage in Rhode Island as a form of economic development.
After a slow start, the long-vacant I-195 Redevelopment District has come alive with new buildings and active construction. Developers are actively competing now for the vacant parcels.
Full-service hotels and boutique hotels have popped up across the state, occupying former office buildings and filling in former parking lots.
Modern industrial properties, such as warehouses, usually in short supply in the state, are now being planned or under construction for the first time in years.
And in residential real estate, home prices have soared since 2016, creating newfound wealth for property owners but highlighting a need for more affordable housing.
In the I-195 district, four projects have been completed since 2015. Another three are under construction. On-site work hasn't started on two others that have been approved by the commission that oversees development in the district.
No project has been more controversial than the residential high-rise sought by The Fane Organization, which has negotiated a purchase and sale agreement for Parcel 42, overlooking the Providence River.
As of late October, the project remained just a proposal. Fane, a New York-based developer, has recently submitted design drawings to the commission.
The modern-looking tower, with 46 floors, would be the tallest building in the state if it is constructed.
As those plans proceed, downtown Providence has been transformed. Mostly vacant Class-B or Class-C office buildings have been purchased, renovated and reopened as mixed-use apartment buildings.
Westminster Street has seen much change since 2016. The Kinsley Building, the Lapham Building, the Wit Building, the Tilden-Thurber Building have been renovated and converted to a mix of apartments, retail and restaurants.
New buildings have been created, occupying entire blocks downtown, including the 143-unit Nightingale apartment building that will feature an organic grocery store on its ground floor along Washington Street.
The trend is expected to continue in the years ahead, as demand for city living and apartments continues.
Providence is now reviewing final plans for a 12-story residential building, over retail, on a site just outside the I-195 district. It is an example of the development interest in Providence that officials had hoped to encourage by investing in an innovation district.
Still, one of the city's tallest buildings, Industrial Trust Co. Building – also known as the "Superman" building – has remained empty since Bank of America Corp. moved out in 2013, leaving the owner, High Rock Development LLC, and city and state officials to figure out its fate.
In the meantime, hotels have expanded in number and size across the state, with eight regional or boutique hotels having opened in downtown Providence or Warwick since 2015. One of the state's largest hotels, the Graduate Providence – formerly known as the Biltmore Hotel – was substantially renovated and rebranded following a change in ownership.
In Newport, The Wayfinder opened in 2020 following a sale and a substantial renovation, one of five hotels in that city that has undergone substantial renovations since 2016. In addition, several new hotels have opened, including two – Hammetts Wharf Hotel LLC and the Brenton Hotel LLC – on the Newport waterfront.
Providence has multiple new options aimed at business travelers and families visiting colleges.
The Aloft Hotel is scheduled to open by year's end in the I-195 Redevelopment District.
Its owner, Richard Galvin, CEO and president of CV Properties LLC, remained bullish on Providence, even though the COVID-19 pandemic left many office buildings and hotels empty. "I've been in the real estate development and investment business for 30 years," he said. "We have these shocks along the way, for a variety of reasons. In the end, the No. 1 factor in long-term success is having a little patience."
Several smaller, unique, boutique hotels have also opened in the state. In Providence, the Dye House opened in May 2021 in the Olneyville neighborhood. The Beatrice, a downtown hotel fashioned from a historical bank and office building, opened in September. The Dean, meanwhile, was a trend-setter when it opened in 2015.
Industrial development has slowly climbed. The Quonset Development Corp., which operates the Quonset Business Park, invested in the construction of several flexible-space warehouse and industrial buildings, which have started to lease with new tenants following a pandemic lull.
One of the most significant turnarounds in real estate in the last five to six years came in residential sales.
The residential market remained sluggish following the Great Recession, but prices started to escalate around 2016.
For the past several years, the residential market, including condos and single-family homes, has experienced less supply than demand. This forced prices upward, and they then became exaggerated by the pandemic when more people started leaving larger cities and seeking out properties in smaller communities, including in Rhode Island.
In July, the state broke a record for the median cost of a single-family home, at $384,000.
For owners, this has meant a windfall of equity that they can cash out if they sell and relocate or downsize. But for many buyers, and in particular people trying to break into the market for the first time, the escalating prices have put homeownership out of reach.
And renters in nearly every community are finding fewer options for leasing a home.
The demand for affordable housing protection reached a pitch in 2021, inspiring the General Assembly to approve for the first time a dedicated fund for affordable housing creation. The fund is fed by a tax on real estate sales of more than $800,000.

Want to share this story? Click Here to purchase a link that allows anyone to read it on any device whether or not they are a subscriber.