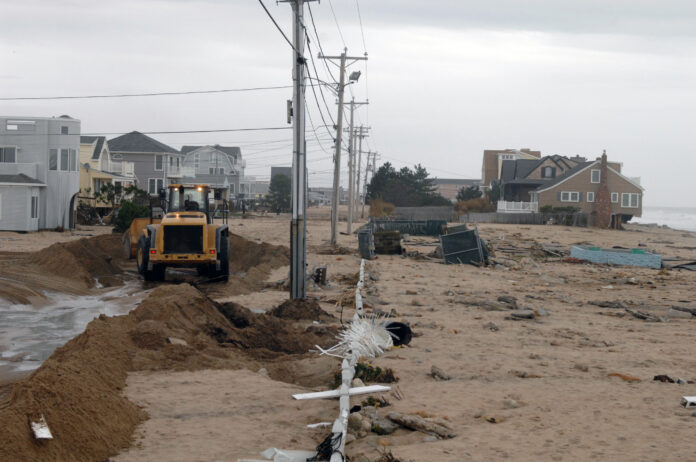 JOHNSTON – A new study commissioned by FM Global links hurricane damage to a loss in enterprise value.
Dozens of large, publicly traded companies that reported hurricane-related financial damage to the U.S. Securities and Exchange Commission in their annual 10-K statements collectively lost 5% of their market capitalization during the year after the storms.
That was the key finding in a study commissioned by Johnston-based commercial property insurer FM Global, which released the findings Wednesday.
FM Global commissioned Pentland Analytics to do the analysis, modeling the stock prices of 52 U.S.-based companies reporting financial damage from hurricanes Harvey, Irma or Maria – which all struck in August and September 2017.
Those companies collectively lost $18 billion, or 5%, in market value by August 2018, FM Global reported.
The study expanded on an FM Global whitepaper, titled "Master the Disaster: Why CFOs Must Initiate Natural Catastrophe Preparedness in 2019 and Beyond."
The whitepaper reviewed loss-prevention and financial data of 109 FM Global clients that had significant property in regions affected by the same three hurricanes.
It found that FM Global clients fared better in terms of market capitalization when they followed the insurer's property protection advice prior to the hurricanes. Companies that followed the insurer's engineering advice related to storm protection collectively outperformed clients that hadn't by 10%, FM Global said.
"The lessons are clear," Deborah Pretty, founding director of Pentland Analytics, said in a statement. "First, hurricanes damage shareholder value, as well as property values. Second, property protection pays off."
According to FM Global, for every dollar a company spends on hurricane protection, it can prevent up to $105 in business property loss and disruption from a natural disaster.
The SEC's Guidance Regarding Disclosure to Climate Change instructs companies to treat the material risks from climate change like any other business risk.
In 2017, three large oil and gas companies – Exxon, Occidental, and PPL Corp. – passed landmark resolutions to disclose the risks that climate change posed to their business. Diverse companies in other industry sectors followed their lead in issuing similar resolutions in 2018.
Natural disaster preparedness also is a growing concern of institutional investors controlling more than three quarters of the U.S. equity market cap and more than one quarter of the global equity market cap.
"Investors want to know if you have a factory in a region prone to natural disasters that the resilience of the building is unquestioned," Courtney Keatinge, director of environment, social, and governance research at proxy advisory firm Glass Lewis & Co., said in the FM Global report.
"If this is not the case, they want the [company's] board to find out why," she added. "Climate change risks are very much on the minds of investors, for obvious reasons. In this regard, the [company's chief financial officer] is on the hot seat."
The study of large companies hurt by natural disasters in 2017 included:
A large power company in the southeastern U.S. that reported $333 million in storm-related asset damage from hurricanes Irma and Maria and other storms.
A large bank holding company reported $53 million in hurricane-related losses in third quarter 2017, primarily hurting its retail auto loan portfolio.
A Fortune 500 healthcare company reported a $32 million charge in third quarter 2017 related to the impact of Hurricane Maria in Puerto Rico, in addition to a negative impact on fourth quarter sales of $70 million.
A major American multinational information technology company reported $93 million in disaster charges resulting from Hurricane Harvey.
A major American conglomerate based in New York cited net catastrophe losses of $256 million from the three hurricanes and California wildfires.
A large U.S. department store chain reported $16 million in losses related to the cost of property damage from the three hurricanes.
Scott Blake is a PBN staff writer. He can be reached at Blake@PBN.com.

Want to share this story? Click Here to purchase a link that allows anyone to read it on any device whether or not they are a subscriber.