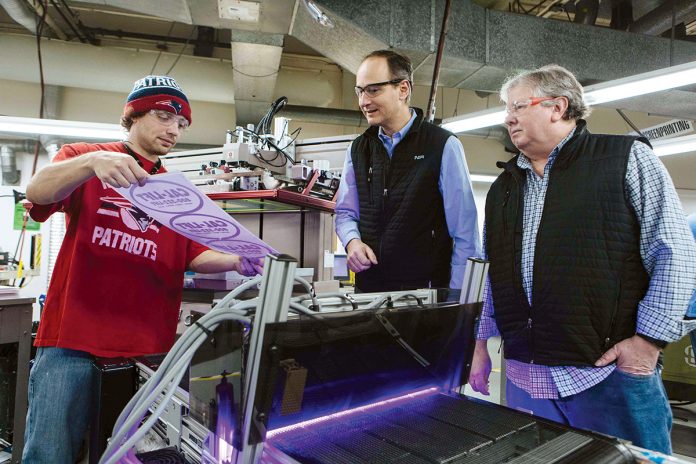 Nameplates for Industry Corp.
Green Manufacturing | 2019 Manufacturing Awards
---
Nameplates for Industry Corp.'s products have been shot into space, put into submarines and can be seen on buildings, homes and offices around the world.
In its 43 years, the New Bedford company has been able to transform from a screen-printing operation based in England to a global leader in high-performing printed graphics. The company built the New Bedford location in 1988 after expanding from England.
"Our sales rep saw the demand in the United States," said Mark Smith, the manufacturing director. "Very early on, we started digital printing [and] we were able to stay on top of the technology."
The 48-person company now specializes in digital printing with its in-house design studio, while offering high-performing graphics. NFI produces labels, decals, stickers, tags, nameplates, faceplates, overlays and membrane switches.
Their customers around the globe are in sectors such as medical, industrial manufacturing, government, military, professional services, technology and communications, transportation and equipment.
"We work with small companies and big companies," said Smith. "We spread it around."
Still, NFI is not resting on its laurels.
The company has put a lot of focus on environmental sustainability.
'Very early on, we started digital printing [and] we were able to stay on top of the technology.'
MARK SMITH, Nameplates for Industry manufacturing director
NFI has eliminated 99.5 percent of the solvent-based inks and cleaning solutions it once used in production. And 99 percent of all the chemicals used at NFI are considered environmentally friendly, the company said. And, of course, NFI ensures that plastic, metal and paper are separated from its waste stream and recycled. That amounts to 55 barrels a week in plastic alone.
Improvements are coming in other areas of the business, too.
As part of its manufacturing process, NFI has educated managers and employees in lean manufacturing, allowing the company to reduce lead times from 12 days to five, and shifts from two to one. Products can be delivered to customers in half the time it used to take.
Smith said increased use of robotics is on NFI's horizon in order to free employees for more interaction with clients.
"We may not be interacting with the customer," said Smith, whose clients can use a portal to make their request. "We have [looked] at robotics for the more repetitive tasks."
While technology might change some of the manufacturing processes, employees will continue to play a key role. NFI has emphasized training and retaining its staff, and has implemented a "3 by 3" policy in which each employee is cross-trained to do three different jobs.
NFI uses this plan to allow employees to look at the different areas and see what works best for them. It also allows the company to fill various manufacturing assignments needed for certain projects. "They are able to transfer around to make sure every job is done," Smith said.
For high school graduates, the Corridor to College program allows them to choose from three different career paths, focusing on engineering/design, production management and business management, with job training and educational opportunities.
NFI uses the training programs to teach employees various parts of the business, from marketing and sales, to see how the designers and engineers develop the projects. Also, this allows new employees to learn from longtime employees.
"We have people who have been here 20, 25 to 30 years," said Smith. "They have a lot of tribal knowledge."
The company has taken numerous actions to make sure their employees stay safe. A safety committee meets monthly, while the management team audits the results, and employees who avoid potential work hazards are recognized and rewarded. Employees are also provided with safety glasses and gloves in all production areas.
The initiatives have paid off.
NFI said its total recordable injury rate is zero, while on-time delivery rates are at 99 percent, and defect rates had fallen to 0.7 percent from 3 percent.