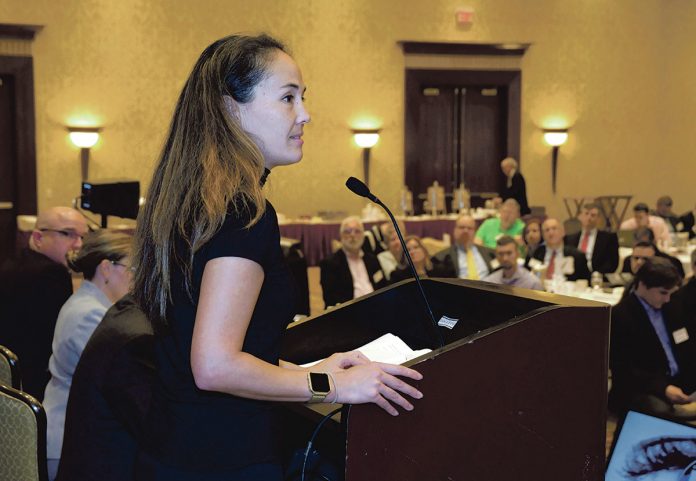 Technology giant Infosys Ltd.'s expected arrival in Providence brings the promise of up to 500 new jobs by 2023.
The India-based company's partnership with Rhode Island School of Design to develop a design and innovation hub in the capital city was a major highlight for the local tech industry in 2018.
But the year also saw renewed commitment to tech innovation being used in more-traditional New England industries as well – such as the marine economy and banking.
All this progress also raises the stakes for increasing awareness of cybersecurity and related services.
Economic Promise
Information technology services and consulting giant Infosys chose Providence as one of its six U.S. regional hubs. A planned design and innovation hub will train Infosys employees in skills producing more-effective engagement in areas such as user experience, strategy and organizational impact.
"Why not make this place [Rhode Island] known for design nationally?" said Infosys President Ravi Kumar in September. "Design will be central to digital experiences."
While Infosys is building new bridges, University of Massachusetts Dartmouth and SouthCoast Development Partnership are building momentum where innovation and the state's maritime legacy meet.
This past year, the groups were approved for $600,000 in federal Economic Development Administration funding for a multiyear plan to support the area's blue economy. Hugh Dunn is executive director of economic development at UMass Dartmouth and SCDP.
He told PBN that the goal is to create a marine science and technology supercluster, called the Southeastern Massachusetts Marine Science and Technology Corridor. It will include robotics, oceanography, renewable and nonrenewable energy, biotechnology, communications hardware, information technology, advanced materials and civil-engineering initiatives.
In Rhode Island, the Naval Undersea Warfare Center Division Newport and partner University of Rhode Island provide expertise in this arena, said Dunn.
All indications show that unmanned underwater vehicles are not only an evolving technology but an area in which NUWC is leading.
According to the Association for Unmanned Vehicle Systems International, the U.S. Navy requested an additional $1 billion in fiscal 2019 spending for unmanned systems, the largest increase in the category for any of the main branches of service.
Banking Trends
Beyond the economic partnerships and military innovations, technology is influencing customer-service offerings in banking.
Bank of America Corp. Rhode Island Market President William F. Hatfield told PBN that the bank, such as others in the Ocean State, is investing in digital services. "We're seeing phenomenal customer engagement," he said, adding that more than 60 percent of customers in the state use digital phones or computers for banking.
Calling the strategy "high tech and high touch," bank Chairman and CEO Brian Moynihan says the bank is not choosing technology over personal interactions, but rather responding to the fact that tech is how banking customers seek conversations or advice.
Cybersecurity
Tech's growing presence in areas such as military defense and financial services demands corresponding advances in cybersecurity.
Businesses, government and educational institutions have increasingly sought to join forces to raise awareness of the risks and opportunities cybersecurity presents.
Tech Collective last year partnered with the Pell Center for International Relations and Public Policy at Salve Regina University for an employee cybersecurity education event. The R.I. State Police Joint Cyber Task Force and Fusion Center also hosted training for participants in 18 municipalities and state agencies.
PBN also made cybersecurity the focus of a summit last fall, with specialists from various industries.
Cybersecurity is not a problem to solve, Rep. James R. Langevin, D-R.I., told summit attendees: "We have to look at it as a threat that can be ­managed."